This post is part of our series #BlackInAstro. For our cornerstone post, see here. The "Unsung Heroes" series aims to highlight the work of folks who are not professional astronomers, but whose work is crucial to the astronomical community!
In this installment, we are publishing an interview with Crystal Tinch, a staff member at the American Astronomical Society.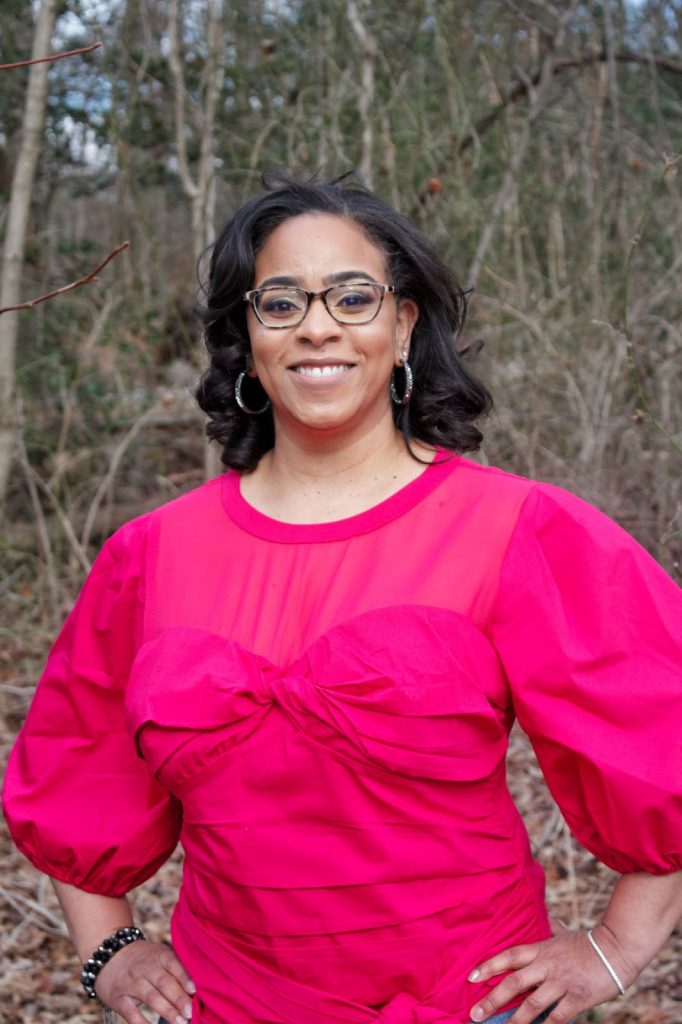 Eighteen years ago, Crystal Tinch was hired to work at the American Astronomical Society, or AAS.
"It's funny because when I started, my friends were like, what do you know about astronomy?" she laughs. "But I'm involved in everything that communicates to our membership, like the social media, the directory, and all of the emails that go out."
Tinch has a degree in English with a photography minor, and originally worked at an art gallery in Buffalo, New York, before relocating to Washington, D.C. "I really just moved on a whim," she says. Soon after, she found her current position at the AAS.
As Communications and Engagement Coordinator, Tinch is the glue that holds the astronomical community together. She has helped with the biannual AAS Meetings, facilitated elections for AAS leadership, maintained a list of obituaries to honor members who have passed away, assisted with the production of AAS educational content, and more.
"One of my favorite projects is the annual AAS Wall Calendar, which has been going strong for about 15 years now!" Tinch says. She uses graphic design skills she honed at the art gallery to pull the calendar together. Free to members, the calendar highlights celestial events such as eclipses, solstices, and meteor showers. It also marks important dates for AAS Meetings, grant deadlines, and even the birthdays of fellow astronomers.
A new project Tinch rolled out this year was the 2021 AAS Black History Month Profiles. Meant to be in the works years ago, Tinch says it just never got off the ground. "So in 2021," she says, "I made it my business to make it happen."
And that she did. The Black History Month Profiles celebrate Black astronomers from all ages and career stages. Twenty-two scientists were featured, including their affiliations, areas of scientific expertise, positions held in the AAS, and recent accomplishments.
"It let me learn more about our members and showcase them to a wider audience," Tinch says about compiling the profiles. "And it was very well-received on our Twitter, Facebook, and Instagram pages." She hopes to continue this project every year.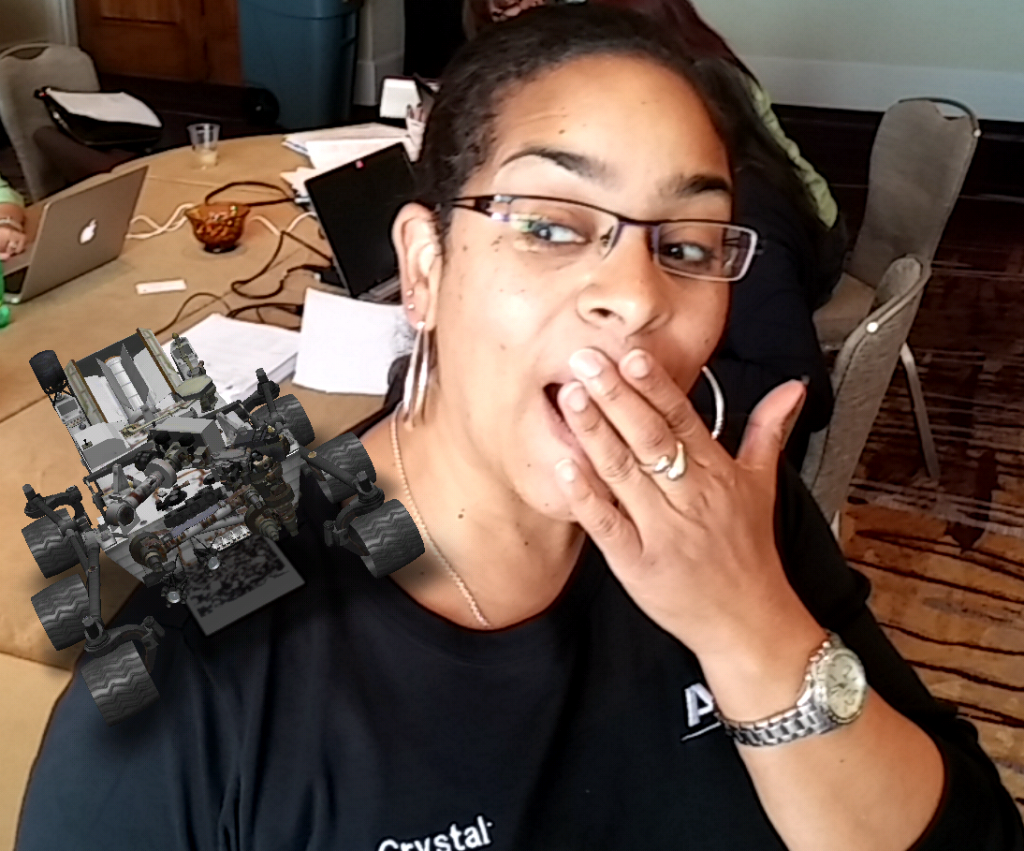 Tinch is also an essential organizer of the AAS Meetings (which are the largest meetings of professional astronomers in the world!) and has traveled to over 45 of them throughout her tenure. "It's always nice to put a name with a face," she says, noting that seeing members' excitement at convening is one of the most rewarding parts of her job. She particularly enjoys helping out with the student outreach programs, and loves seeing students in the Exhibit Hall discovering astronomy.
Though she comes from a non-astronomy background, over the years Tinch has become as appreciative of the night sky as the fellow researchers she supports. "It's truly fascinating what astronomers do," she muses. Tinch often attends research talks at the AAS Meetings and participates in community excursions to tour facilities where the science happens as well as explore surrounding areas.
When asked about her most memorable trip experience, Tinch can't choose just one: she mentions a staff trip to Green Bank Observatory in West Virginia, visits to Two Jack Lake and Lake Louise in Calgary, Alberta, and time spent under the stars on the islands of Hawai'i.
"While in Honolulu, we went to Maui and climbed up to one of the observatories at night," Tinch shares. "I've never seen the stars like that in my entire life − it was breathtaking!"
During this hike, Tinch learned that some of the constellations she was seeing weren't visible from her home on the East Coast, like the Southern Cross. It was also her first time seeing the Milky Way, which she describes as "absolutely incredible."
Her enthusiasm for astronomy has seeped into her personal life, too. In 2019, she spontaneously jumped on a plane to catch the total solar eclipse in Atlanta. "I see why astronomers chase eclipses," Tinch says in fascination. "I completely get it."
In a fortunate turn of events, one of the best places to see the next solar eclipse will be in Tinch's hometown of Buffalo, New York. She hopes to share this moment with family and friends by hosting an eclipse party.
"I've got three years to plan!" Tinch says, excited. "I really want to find an astronomer who will come and explain everything that's happening to people who've never seen this before."
Her passion for outreach and community building extends beyond astronomy as well: "I'm an active member of Delta Sigma Theta Sorority, Incorporated," says Tinch, who currently serves as her chapter's technology chair. She has also participated in the Big Brothers Big Sisters network for nearly 14 years.
Professionally, the pandemic hasn't changed much for Tinch − she jokes about appreciating the shorter commute − but her role has become more important than ever as astronomers rely on virtual settings to stay connected. And Tinch continues to work tirelessly to forge stronger bonds between members of the AAS community, especially for scientists who come from marginalized backgrounds.
"I know what it's like to grow up and have to always be better and prove yourself," Tinch says. "Through the AAS, I hope to make that a little easier. If I can do a small piece that helps you all, then I'm all for it."
Guest Author Bio: Katrina Miller is a PhD student in the University of Chicago Physics Department. Read more about Katrina here!
"Beyond astro-ph" articles are not necessarily intended to be representative of the views of the entire Astrobites collaboration, nor do they represent the views of the AAS or all astronomers. While AAS supports Astrobites, Astrobites is editorially independent and content that appears on Astrobites is not reviewed or approved by the AAS.
Astrobite edited by: Mia de los Reyes
Featured image credit: Astrobites collaboration