English
Dawn is beautiful and clear in Cambridge, Mass and I'm sitting in my office starting at the night sky, hoping the clouds will clear. I'm finishing up my last night of remote observing on NASA's Infrared Telescope Facility (IRTF), which lives atop Mauna Kea in Hawaii.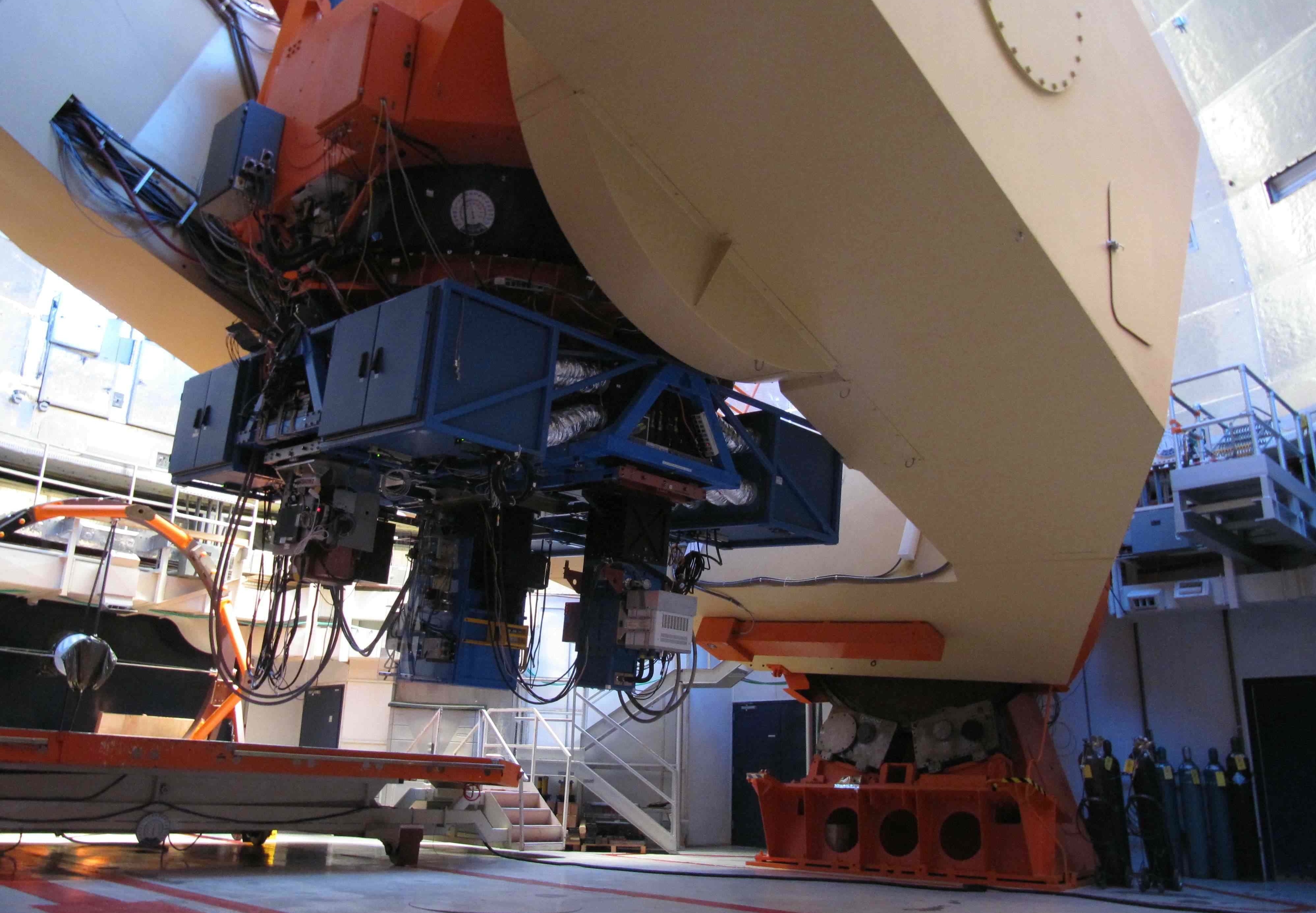 This is my second observing run on the IRTF: in May, my advisor and I flew to the Big Island to do our observations on-site. This time, we are observing remotely from my office. The majority of astronomers observe on IRTF remotely, traveling to Hawaii only if bringing their own instrument, but we decided to make the trek out there the first time around. First of all, who wouldn't want to take a short vacation in Hawaii, drink Kona coffee and get the traditional photo in front of the Keck telescopes at sunset? Secondly, observing is pretty fun and it's great to actually see the telescope you are using! The IRTF is a 3-meter telescope that has been around for a long time: first light was in 1979. It's bright orange and mounted on a yellow yoke that could withstand World War 3; all the instruments, including SpeX, the infrared spectrograph that I use, hang below.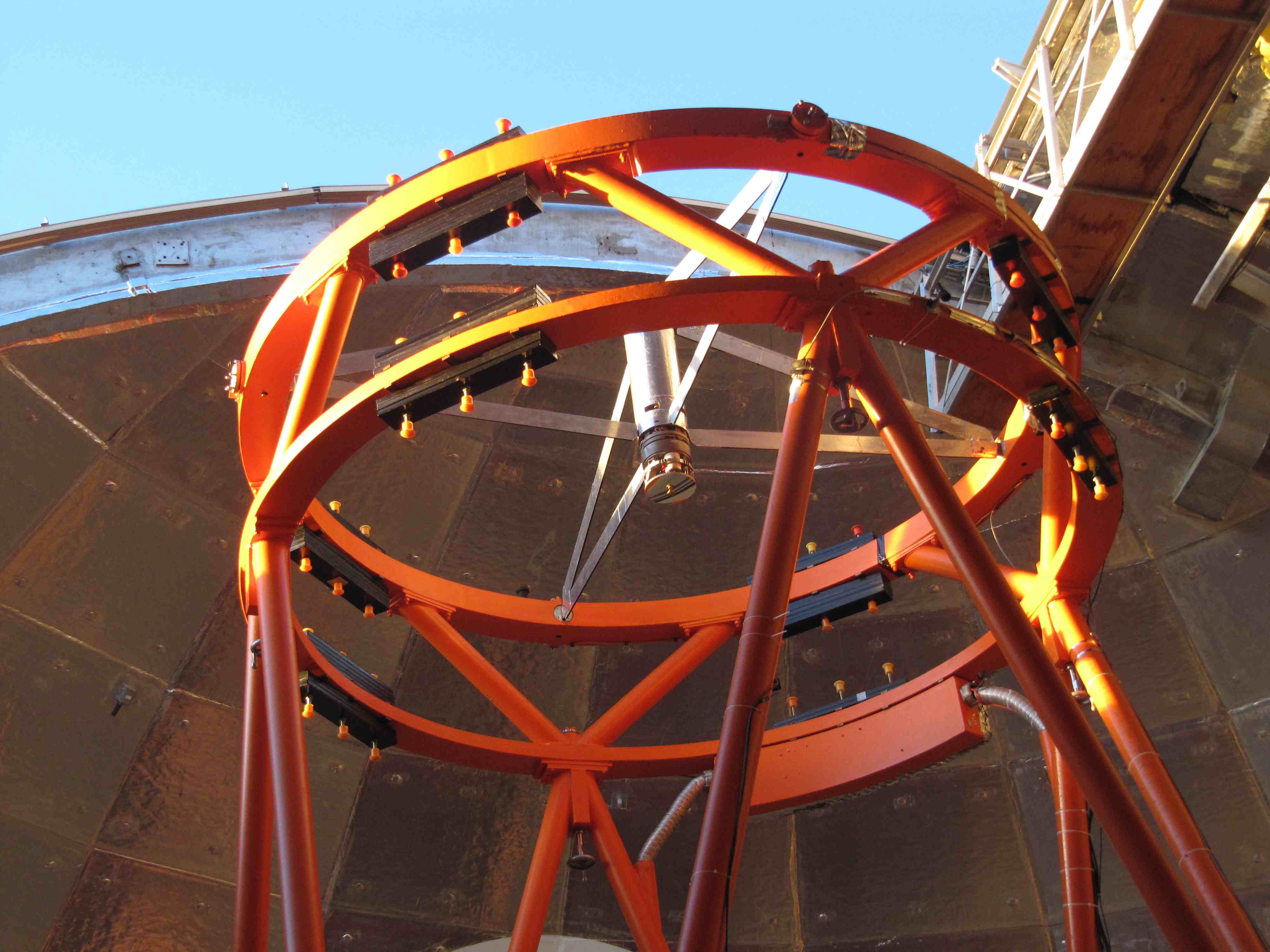 IRTF looks extremely different from the only other telescope I've used, the Baade, one of the 6.5-meter Magellan telescopes in Chile (Ian and I have both written about observing on Magellan). Despite having a mirror half the size, the IRTF building is at least as large as Baade's. The main reason is IRTF's yoke mount, which is more rigid than other types of mounts but also a lot bigger. IRTF also has much larger control room and some other work space. Compared to the Magellan telescopes, IRTF also seems to be missing some bits, especially around the secondary mirror: IRTF was designed for infrared observations and thus thermal emission from the telescope itself has been kept at a minimum. The secondary mirror is small and unadorned – it doesn't have the metal baffling that you'd notice on other telescopes, such as Baade.
The actual mechanics of using SpeX, the instrument I observed with, is the same whether you are on top of Mauna Kea or in your office. You log into the exact same computer and use the same programs and the same commands. There are really only two differences: the connection is a bit slower from 6000 miles away and instead of being in the same room as your (very awesome) telescope operator, you Skype him. Despite how wonderful observing from the top of a mountain in Hawaii is, it's also nice to stay at home. I love being at 14000 feet, but the altitude and dry air can really get to you. Hawaii is also not an easy place to get to for most of us – sometimes impossible given other responsibilities – and remote observing cuts down significantly on your travel time as well as your carbon footprint. An unexpected perk of remote observing for me was the fresh-baked goods and coffee that one of our collaborators brought us in the morning!
A note to the weather gods: I understand that everyone should have the experience of having bad weather while observing (or at least so people tell me) and that since I had six beautiful nights I was probably due for the some periods of 100% humidity and cloud cover so thick you can't observe a 6th magnitude star. However, now that that's done, can we go back to clear skies, please?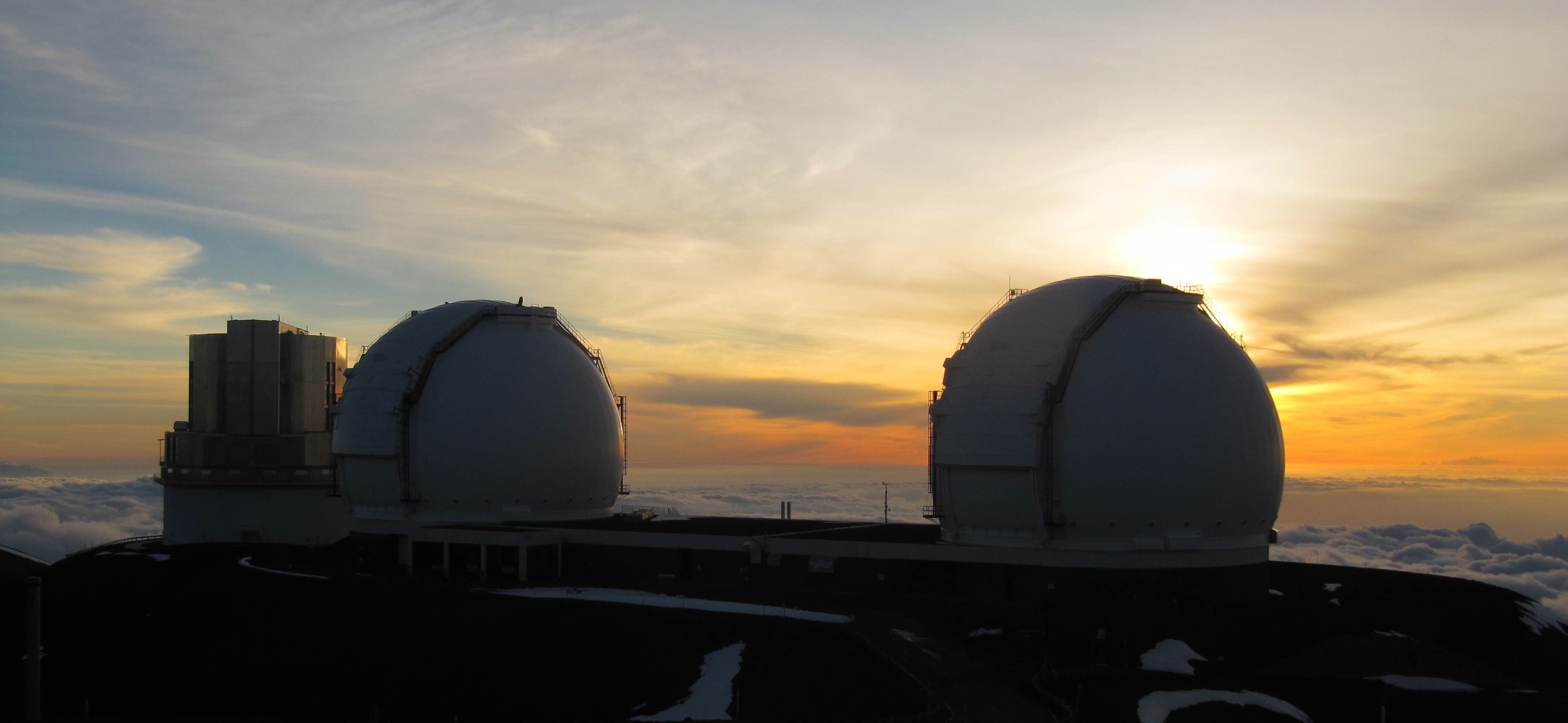 Nederlands
De zonsopgang is prachtig helder in Cambridge, Massachusetts, USA, en ik zit in mijn kantoor naar de nachtelijke hemel te kijken in de hoop dat de wolken zullen verdwijnen. Ik ben mijn laatste nacht van op afstand observeren aan het afronden, door middel van NASA's Infrared Telescope Facility (IRTF), die bovenop Mauna Kea in Hawaii staat.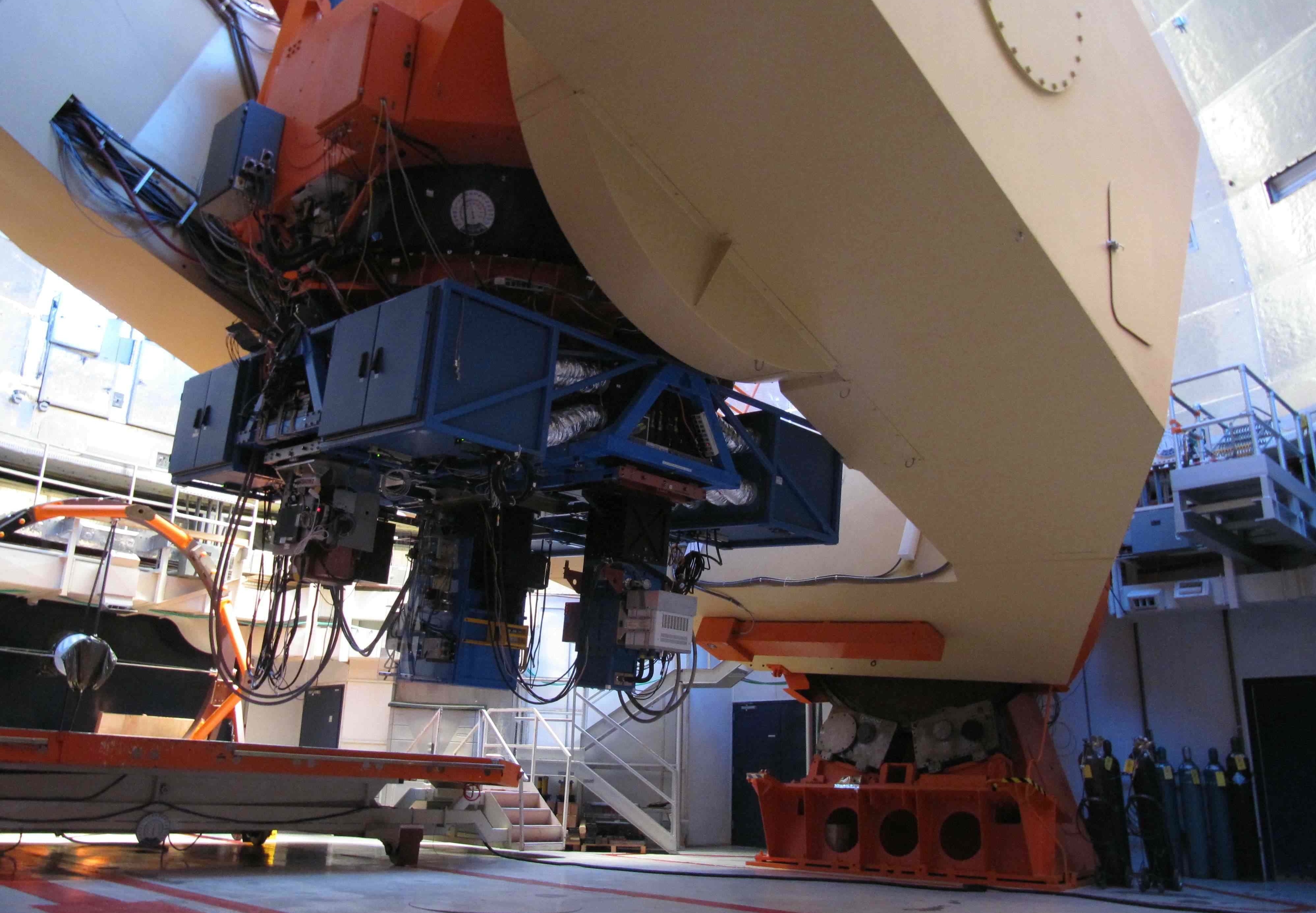 Dit is mijn tweede observatierun op de IRTF: in mei vlogen mijn adviseur en ik naar het Grote Eiland van Hawaii om onze waarnemingen ter plaatse te doen. Deze keer observeren we vanuit mijn kantoor. De meeste astronomen observeren op de IRTF op afstand, en reizen alleen naar Hawaii als ze hun eigen instrumenten meenemen, maar we besloten de eerste keer ernaartoe te gaan.Want zeg nou zelf, wie zou niet graag een korte vakantie in Hawaii willen nemen, Kona-koffie drinken en de traditionele foto voor de Keck-telescopen bij zonsondergang willen maken? Daarnaast is observeren leuk en het is geweldig om daadwerkelijk de telescoop te zien waarmee je werkt! De IRTF is een 3-meter telescoop die al best oud is: Eerste licht (de eerste opname van een object) was in 1979. Het is fel oranje en gemonteerd op een geel juk die een oorlog zou kunnen weerstaan; alle instrumenten, waaronder SpeX, de infraroodspectrograaf die ik gebruik, hangen eronder.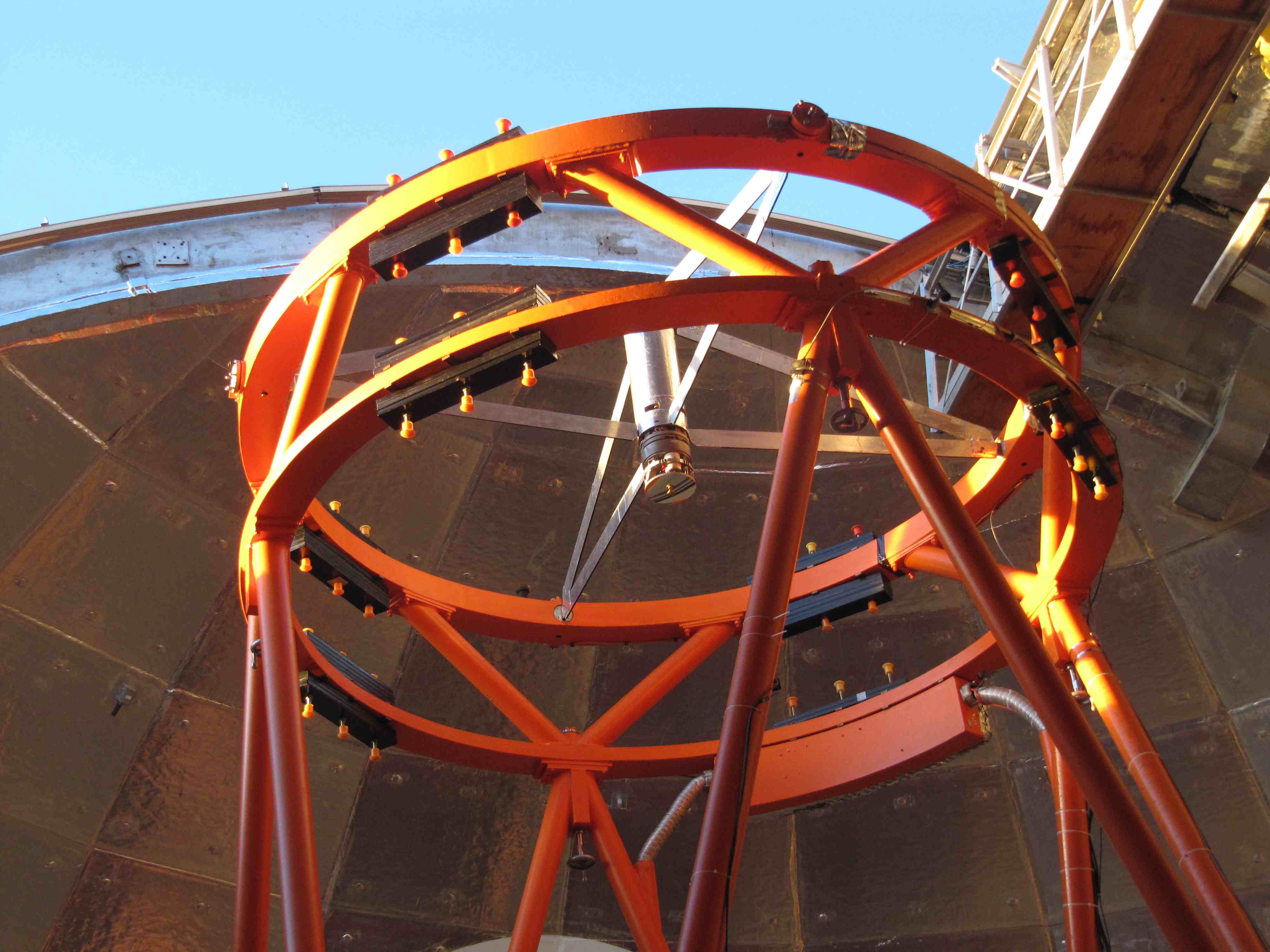 De IRTF ziet er heel anders uit dan de enige andere telescoop die ik heb gebruikt: de Baade, één van de 6,5-meter Magellan-telescopen in Chili (Ian en ik hebben beiden geschreven over het observeren met Magellan). Ondanks dat het een spiegel heeft die de helft van de grootte is, is het IRTF-gebouw minstens zo groot als dat van de Baade. De belangrijkste reden is de juk-montage van de IRTF, die stijver is dan andere soorten montages maar ook een stuk groter. De IRTF heeft ook een veel grotere controlekamer en enkele andere werkruimten. In vergelijking met de Magellan-telescopen lijkt de IRTF ook enkele onderdelen te missen, vooral rond de secundaire spiegel: de IRTF is ontworpen voor infraroodobservaties en daarom is de warmtestraling van de telescoop zelf tot een minimum beperkt. De secundaire spiegel is klein en kaal – het heeft geen metalen afscherming zoals je op andere telescopen zou zien, zoals de Baade.
Het daadwerkelijk gebruiken van SpeX, het instrument waarmee ik observeer, is hetzelfde of je nu bovenop Mauna Kea bent of in je kantoor. Je logt in op dezelfde computer en gebruikt dezelfde programma's en dezelfde computeropdrachten. Er zijn eigenlijk maar twee verschillen: de verbinding is een beetje trager vanaf 10 000 km afstand en in plaats van in dezelfde kamer te zijn als je (zeer geweldige) telescoopbediener, Skype je hem. Ondanks dat het geweldig is om vanaf de top van een berg in Hawaii te observeren, is het ook leuk om thuis te blijven. Ik hou ervan om op 4 km hoog te zijn, maar de hoogte en droge lucht zijn niet echt confortabel. Hawaii is ook niet gemakkelijk te bereiken voor de meesten – soms onmogelijk vanwege andere verantwoordelijkheden – en op afstand bedienen vermindert je reistijd en je ecologische voetafdruk aanzienlijk. Een onverwachte bijkomstigheid van op afstand bedienen was voor mij de versgebakken lekkernijen en koffie die één van onze mede-onderzoekers ons in de ochtend bracht!
Een schietgebedje aan de weergoden: ik begrijp dat iedereen een keer slecht weer moet ervaren tijdens het observeren (dat heb ik me ten minste laten vertellen) en dat aangezien ik zes prachtige nachten had, mij een periode van 100% luchtvochtigheid en wolkenbedekking zo dik dat je een 6e magnitude ster niet kunt observeren verschuldigd was. Maar nu dat gebeurd is, kunnen we weer terug naar een heldere hemel, alstublieft?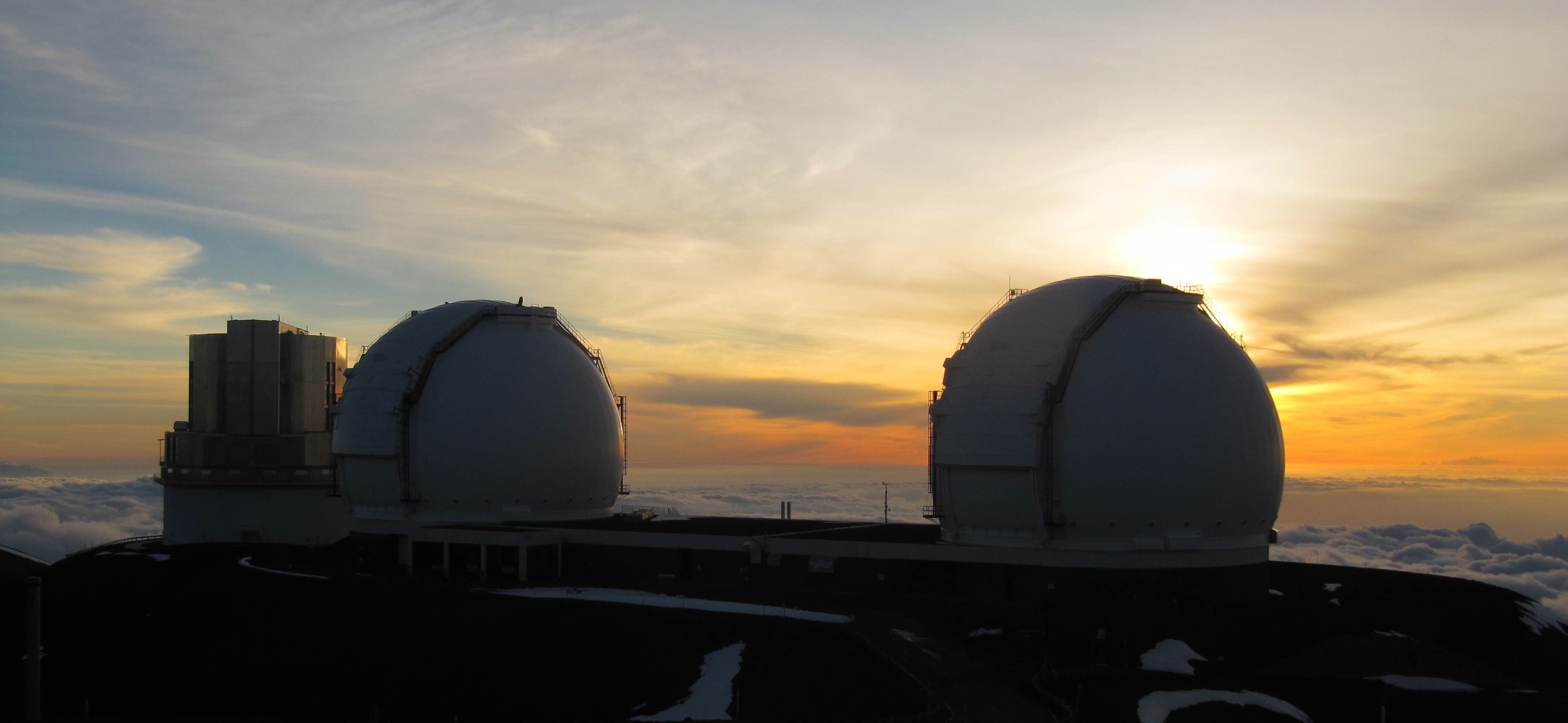 Vertaald door Sjoerd Weide. Ik ben een masterstudent aan de Universiteit Utrecht. Ik werk aan de uitlijning van sterrenstelsels met elkaar, om erachter te komen waar het universum uit bestaat. Daarnaast speel ik graag basketbal en speel ik videogames.