Do you want to tell others about your undergraduate research?
If you didn't already know, Astrobites has always welcomed undergraduates conducting research to write a short post about your research project. Now, we're taking that to the next level and also inviting our undergraduate readers to write a full bite about your research experience!
That may include things like: finding a research opportunity, acclimating to conducting research, overcoming challenges, or learning a new skill. Not sure what the bite should look like? Check out an excellent example post — Intro to Astro: Confessions of a Novice Research Student by Ruth Angus — for some ideas!
Still not sure what to write about? We listed a bunch of potential topics below to give you even more ideas. Feel free to pick a few or even just one! Find something that interests you or something you think would be insightful to others!
To submit a post, send an email to [email protected] following the usual guest post instructions: https://astrobites.org/apply-to-write-for-astrobites/submit-a-guest-post/
We are looking forward to seeing your submissions!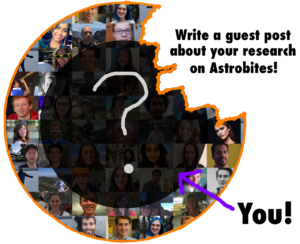 ---
Logistics
How many people did you work with?

How often did you meet with your advisor(s)?

Did you work with other undergrads or graduate students?

Did you attend a group meeting? What was that like?

If you were paid (and not through e.g. an REU), how were you able to find a paid position?

What year were you in when you began the project?

If you worked on this project during the year, how did you balance research with classes?

If you worked on this project during the summer at another institution, were you able to continue when you went back to your undergrad institution? How were you able to work that out?
Interaction with Others
Was there anything your advisor(s) did to make you feel you were a part of your research group?

Was this research experience a part of a bigger program (e.g. an REU)?

If it was, was there anything you did with your fellow undergrad researchers that you liked?

If it wasn't, did you still get the chance to interact with other undergrad researchers?
Conducting Research
What was one or more of the skills you learned during your research project (e.g. a coding language or software package)?

What are your thoughts on the process of learning that skill? Did you find it quick to learn? Did you learn it alone or with the help of others?

What were one or more of the difficulties you had in your project? How did you overcome them?

Did the project evolve over time? As in, did you end up adding a new research goal? Or did you end up changing directions from your original research goal completely?
Presentations
Did you present this work at your undergrad institution, the institution where you conducted the research, and/or a conference?

Did you enjoy giving that presentation? How did you prepare? Feel free to elaborate on that experience!