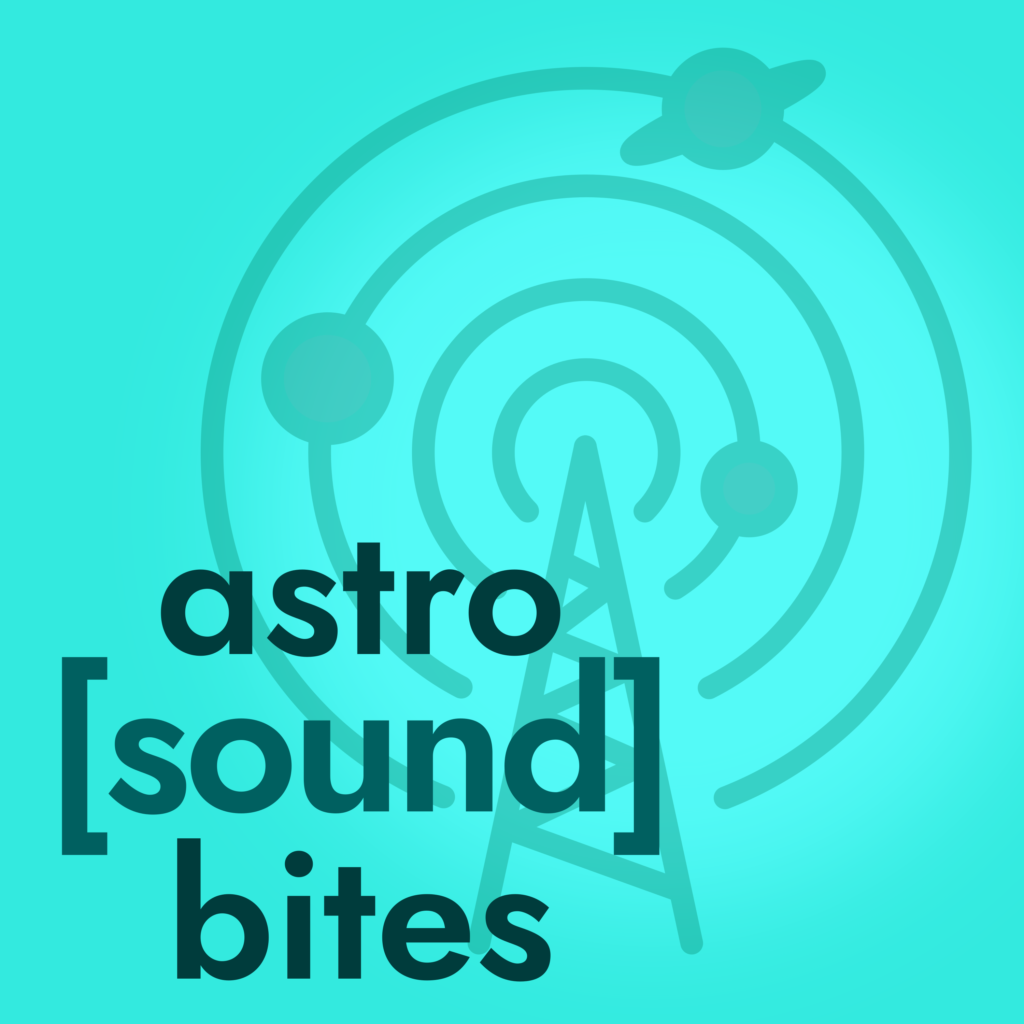 Have you ever wondered what the universe sounds like? In Episode 33 of astro[sound]bites, we explore the growing field of sonification: the art and science of converting data into sound. Dr. Garry Foran at Swinburne University joins us to explain how, as a visually impaired astronomer, he uses sonification to study the properties of high-redshift star-forming galaxies. We also discuss the benefits of sonification both for research purposes and as a powerful tool for science outreach.
To promote sonification for inclusion, inspiration, and innovation, we recently announced the advent of our first ever astro[sound]bites Sonification Competition. And, fear not— there's plenty of time remaining to submit a sound for the contest! See all the rules here, and submit your auditory sensation here before the July 7th deadline.
To show how easy it can be to sonify data, Alex, Malena, and Will each demonstrated a different sonification tool in Episode 33. In this Beyond post, we summarize the tools we used (plus an extra!) so that you can create your first space sound in 30 minutes or less. Your audio might even make it onto the podcast!

Are you a fan of photometry? Do you love listening to light curves? Do you have troves of time series data? We've got just the tool for you. Astronify is an open-source Python package designed to sonify data series, mapping one axis to time and another to pitch. It is being actively developed by astronomers at the Space Telescope Science Institute (STScI), and it was specifically designed with astronomical data in mind. Making a sonification with Astronify is as easy as loading and plugging in the x- and y-values of your data, with extra options to adjust the speed, pitch, and gain of the output to your heart's desire. Learn how to install the software, look through the detailed documentation, or try out one of the online tutorials.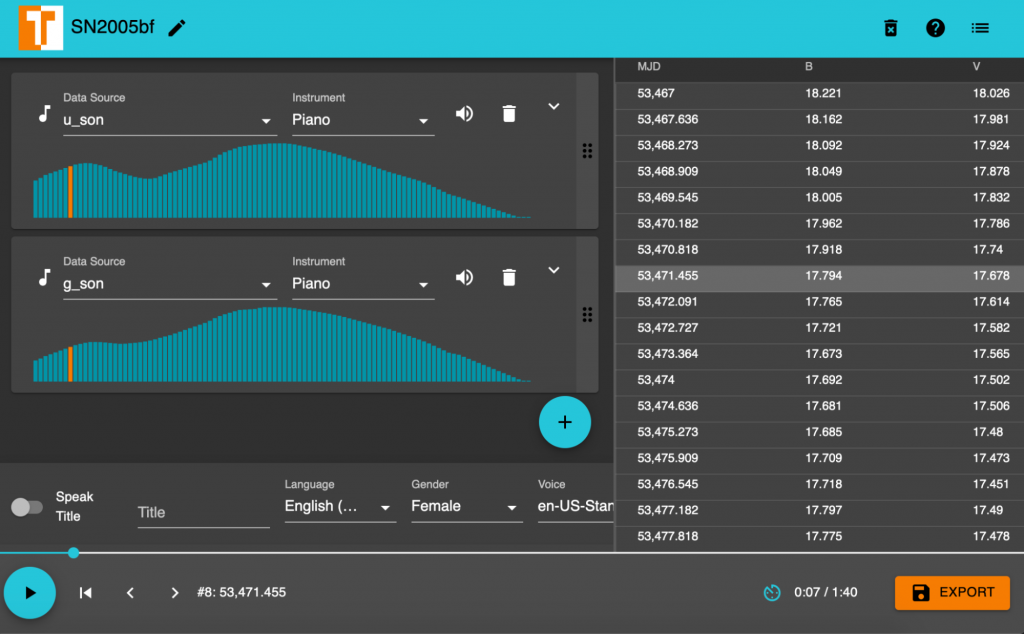 This tool is ideal for musicians looking to break into sonification or for scientists exploring artistic interpretations of their data. In fact, the web-based user interface allows you to sonify a dataset without writing a single line of code! The software is a collaboration between Datavized, a software company based out of New York City, and Google under the Google News Initiative. Simply load in a dataset (an excel spreadsheet or .csv file is best), set the instrument and the variable you're using as the data source, and hit play. The pitch corresponds to the magnitude of a single variable as it changes in your dataset, and there are buttons to change the octave, tempo, key, and instrument of your sonification (although only Piano and Oscillator worked at the time of posting). But be warned: each value is represented by a single note, and the interval between notes is fixed (no setting the x-values here)— so, for an unevenly-spaced data series, you'll have to resample in time. Check out https://twotone.io/ to get started.
For those who want the ultimate amount of control, Miditime is a Python package that can convert any time series data into musical notes. It works by converting an input list of pitches, velocities, and durations into a .mid file, which is a set of instructions for a digital instrument. The only limitation for Miditime is your ability to program it, since it requires a bit more experience with Python than the other sonification tools listed here. But if you're brave, or just like things done a certain way, this tool just might be the perfect fit for you.
Miditime's GitHub page has a step-by-step guide to turning your data into a .mid sound, which you can play using a number of freely-available Midi players.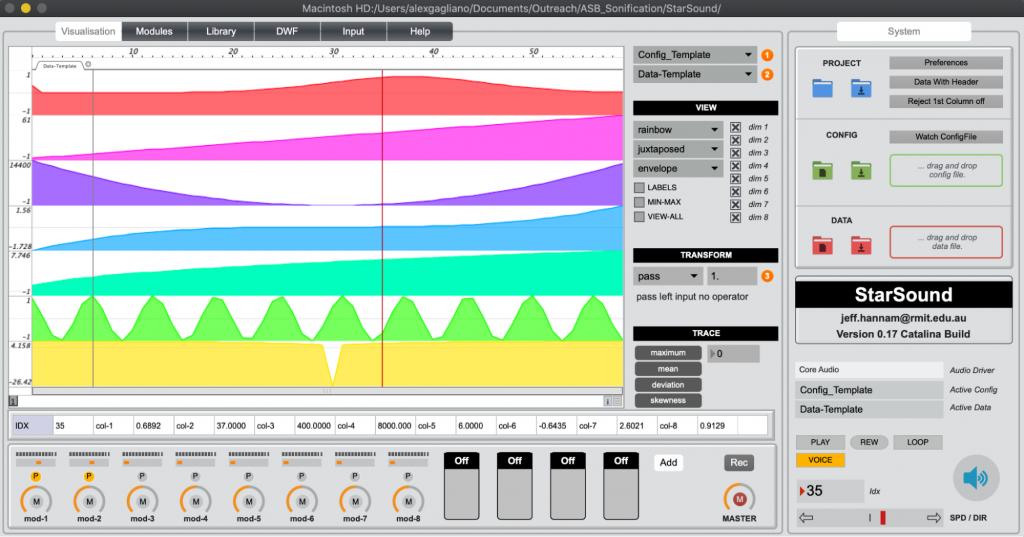 Last, but certainly not least, is Starsound, the brainchild of Jeff Hannam at RMIT University in Melbourne and Jeffery Cooke at Swinburne University (with help from Garry Foran along the way!). Starsound is a Mac program that provides the user with excellent flexibility in setting the frequency range, volume, and tempo of multiple datasets simultaneously (although there's a bit of a learning curve to figure out what each knob does). It also has tons of bells and whistles for compatibility with Midi devices so that you can make your sonifications interactive.
Download the software and read through a quick-start tutorial at https://www.jeffreyhannam.com/starsound.
Sonification has been around for decades, but it's only in the past few years that easy-to-use tools have become available for anyone to turn their data into sound. If you're looking for a new way to explore your data, or want to wow your audience at your next outreach event, give sonification a try. And don't forget to submit for our Sonification Competition.
Astrobite written by Alex Gagliano, Malena Rice, and Will Saunders.