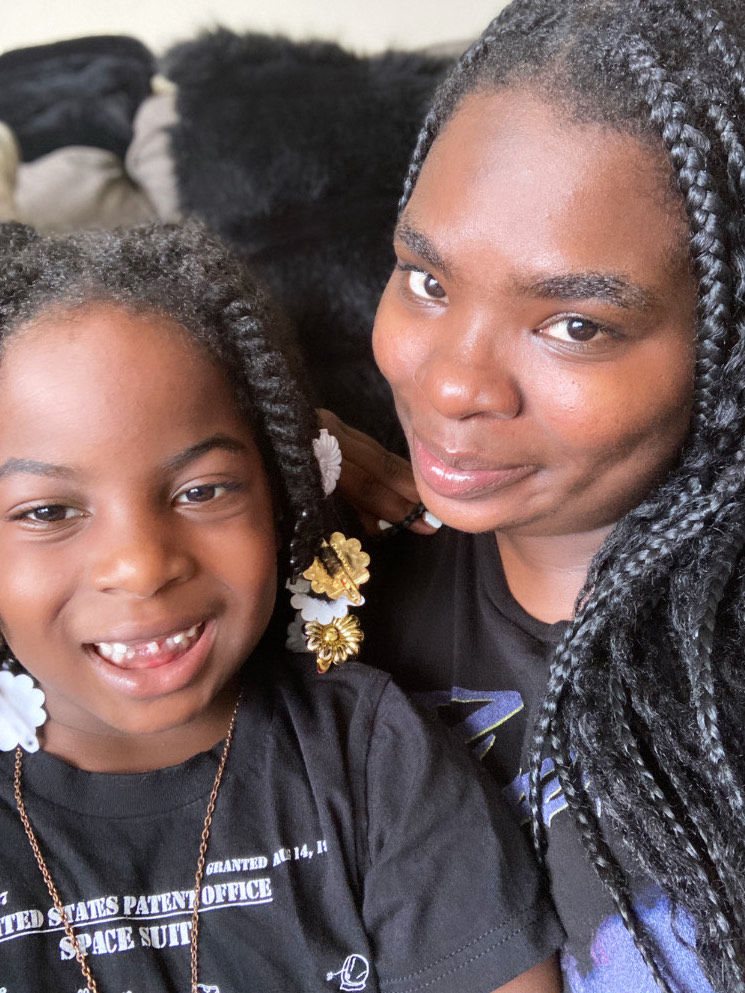 All things outer space
"I don't watch cartoons, I watch space things!" At 5 years old, Ryan Sumner-Lee is perhaps the youngest member of the #BlackInAstro community. Her home is full of space posters, and she has a shelf full of just space books. Her mom Tammy Sumner has been an enthusiastic supporter of Ryan's passion: "Our life has become all things outer space."
Ryan knows all about space. Her favorite planet is Mars: "Sometimes when I go to bed, I'm thinking about the rovers on Mars and the sandstorms." She knows the physics of Saturn's rings: "Saturn has rings around it, and […] they spin around in orbit." She is also appropriately concerned about asteroids: "Asteroids try to hit the earth but there's a little protection from the asteroids, the atmosphere, that blocks the asteroids from hitting us," she says. "If they hit us they might hit our houses. And also maybe it would hurt the trees."
Even Tammy doesn't know where Ryan gets all her knowledge: "One day, […] she came in my bedroom and started listing space facts, and I was like, how do you know this stuff!" But one thing that Tammy and Ryan care deeply about is that Black girl scientists are represented in the sources and media. Ryan loves the storybook character Ada Twist, "because she does cool science experiments, and her hair looks just like mine." She reads Rocket Looks Up, which features "a little girl who kind of looks like me." Ryan also shows me one of her astronaut dolls, a Black girl who goes on space adventures.
Like any clever 5-year-old, Ryan has learned to use curiosity to postpone bedtime. "At bedtime she asks questions about space that she knows I have no idea what the answer is, so she can stay up longer while I try to figure it out," Tammy says. ("Are there rainbows on other planets? How about earthquakes?") Luckily, the pair have another source of answers: Astro Twitter.
Launch to Twitter stardom
Ryan first launched into Twitter fame alongside the launch of the NASA/SpaceX Crew Dragon in May 2020. Tammy was recording Ryan watching the NASA TV coverage when SpaceX engineer Lauren Lyons, a Black woman, appeared on screen. Ryan "stood up and was like, "She looks like me!'" Tammy posted the video to her twitter, with the caption "Representation Matters," and it went viral. "Everyone was like, 'I love her!'"
Tammy helped Ryan start her own twitter page. "From there we would post videos of her doing experiments, and we would go outside looking for the ISS and make videos, and a lot of her videos started catching on," Tammy says. NASA even reached out to them to make a video for the pre-coverage of an upcoming launch. Ryan loves the interaction on her Twitter page: "I was excited because I saw that I had lots of subscribers!" Tammy has seen the positive impact this has had on Ryan, saying, "she started off very shy, but her public speaking and all of that by shooting these videos—she has grown so much."
Through Twitter, Tammy and Ryan have found a wealth of support for Ryan's astro-passion. Tammy says, "She already has so many friends—I call them her big space sisters—in the field that she's going into, and they're laying the groundwork for her; she can just follow in their amazing footsteps." Tammy is grateful that the #BlackInAstro organizers are "laying a blueprint for a mom who has no idea about outer space, but who is raising a little girl who wants to go to outer space. […] Even though college and stuff is far off, I know that if I need help, I can just send them a DM, and they give me advice, and they always encourage her."
From Philly to outer space
Ryan plans to turn her passion for space into a career, one way or another: "I want to be an astronaut when I grow up, or a space Youtuber." She is already a space influencer, and she doesn't understand why she should have to wait to be an astronaut either—after all, the astronauts on her favorite show, The Astronauts, are also kids. "I know it's a movie but I just really want to go to outer space, like right now!"
In the meantime, Ryan is inspiring others to look into space from her home in Philadelphia. Even her mom has caught the space bug: "She's opening me up to a new world. I was never into science, I never watched a space launch, I barely looked up when I [went] outside. But now every time I go outside I'm looking up in the sky, I'm looking for constellations, I'm looking for stars." Tammy also remarks on how the COVID-19 pandemic brought her and Ryan closer. "I'm a single parent and I was working all the time," says Tammy. "When schools and everything closed down, and I got to be her teacher. […] Being able to spend more time with her gave me time to feed her interests." Tammy and Ryan plan to take a trip soon outside the city to see the stars without all the city lights. Ryan can hardly contain herself: "I really really want to see the Milky Way!"
Black girl astronauts
Ryan celebrated #BlackInAstroWeek last week alongside her Twitter space sisters. To her, the week is about "friends that look like [Mommy] or me, and like outer space [like me]." She wants to share her love for space with other young Black children; she says, "friends can be whatever they want when they grow up, or they can be an astronaut just like me."
Tammy recognizes the importance of celebrating Black people in astronomy, as she knows there is still work to do. "I wish that any kid, especially little black girls, can see more people doing the things that they want to do when they grow up, especially in fields where little black girls are underrepresented."
Ryan was born two months early and spent 50 days in the NICU, and doctors warned Tammy about all the things Ryan might not be able to do. "She's defying all the odds," Tammy says. "She tells me all the time, 'Mommy, I'm gonna call you from the moon'—and I'm pretty sure she will one day."
You can follow Ryan on Twitter at @AstroRyan1, and Tammy at @4everTammy.
This post was edited by Ellis Avalone.