Are you enthusiastic about science communication? Interested in developing your writing skills? Excited about joining a collaboration of over 100 astronomy grad students from around the world? Come join us!
---
Applicants must be current graduate students. The deadline for applications is November 5th, 2021. You can find the application form here. Please check out our official application page for application guidelines and FAQs, or email us at [email protected] if you have any questions. Come join us!
Application Details:
Deadline: November 5th, 2021
Required information: (1) One sample Astrobite and (2) one short essay describing why you want to write for Astrobites and how you hope to contribute to our collaboration, all of which can be submitted here.
All Masters and PhD students interested in research related to astronomy and astrophysics are encouraged to apply. We aim to cover a wide variety of research topics from a diverse set of perspectives. Individuals from underrepresented groups are especially encouraged to apply. If you are passionate about sharing the latest research in astronomy and astrophysics and enjoy writing, we want to hear from you! Astrobites is also about more than writing: you can work with the collaboration on diversity initiatives, help expand the reach of Astrobites through advertising and discussing how to use it in the classroom, and more
Astrobites is a volunteer collaboration and does not offer compensation. The benefits of joining our team include public outreach (disseminating journal articles to a wider audience), professional development (reading papers, writing, editing, and possibly leading committees), and networking through work with people from institutions worldwide and through AAS. Check here for more on why you should join us.
Applications are reviewed anonymously. Please do not include your name, affiliation, or other identifying information in your short essays or sample Astrobite.
Please check out our official application page for more guidelines on the sample post, information about the hiring process, FAQs, and more.
Please don't hesistate to contact us with additional questions at [email protected]!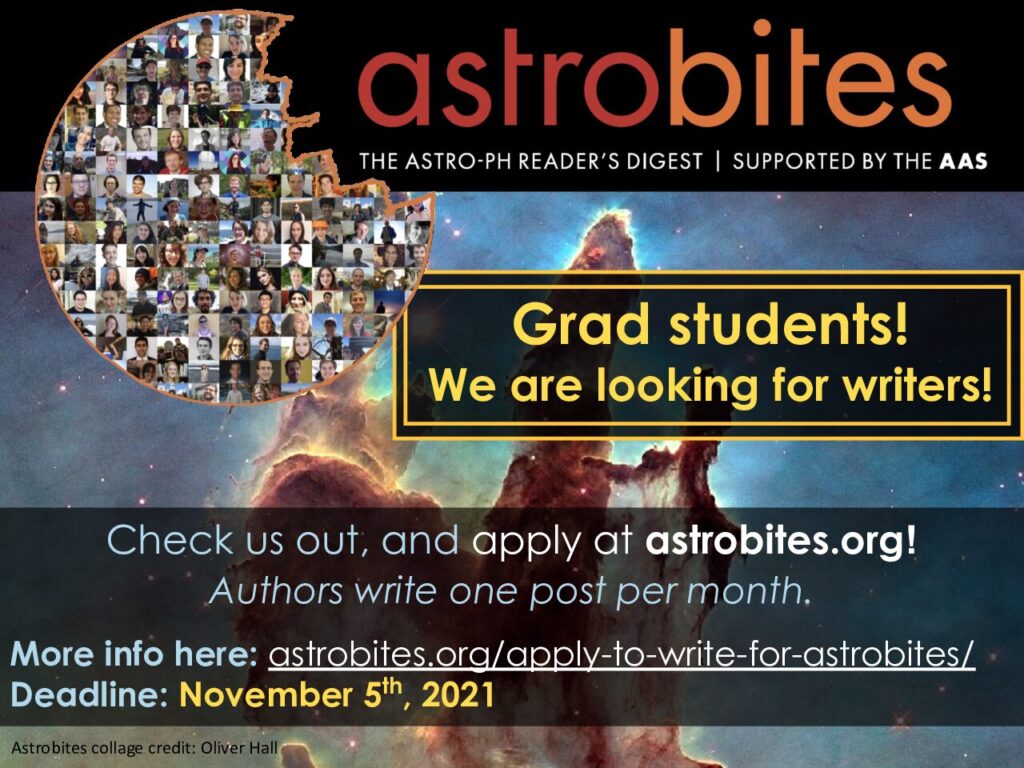 ---