This interview has been edited for length and clarity.
Introduction to Astronomy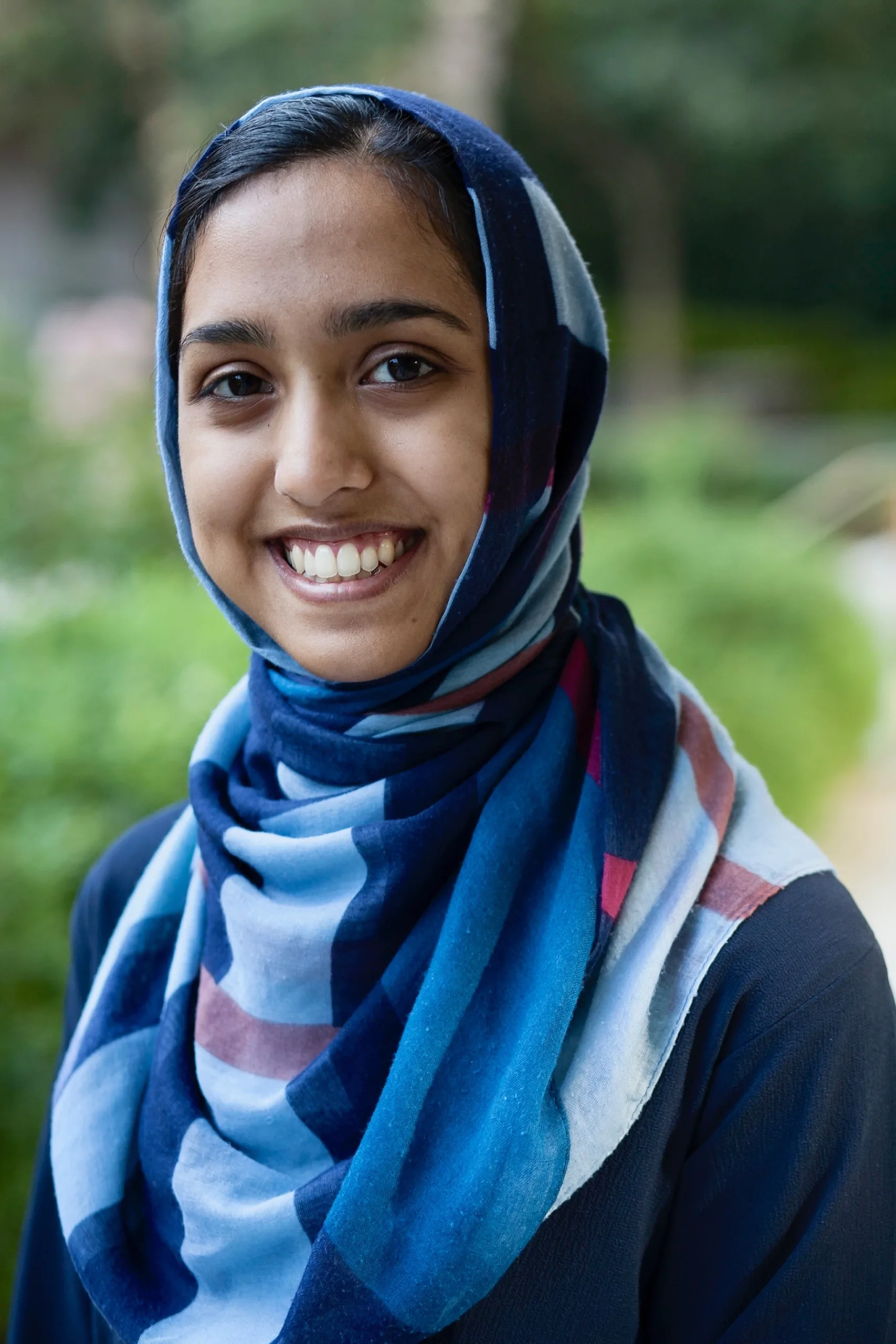 Growing up in New York, Dr. Munazza Alam didn't have any exposure to astronomy. She was a curious child and loved asking questions which her parents and teachers encouraged. Her high school physics teacher Dr. Jensen inspired her to pursue physics in university. She was first introduced to astrophysics at the American Museum of Natural History in New York City, where she learned what research is and what it means to do research. "The idea of asking questions that no one in the world knew the answer to was very appealing to me," she says. "It wasn't until my first observing run [at Kitt Peak] – where I went on a mountain top in the middle of the desert – that I was hooked, and I knew that this is what I wanted to do long-term."
Her parents also played an important role in her becoming a scientist. They supported her curiosity and education, and stressed that whatever her career choice, she follow it wholeheartedly and with passion. Dr. Alam received her bachelor's degree in Physics & Astronomy from CUNY Hunter College in 2016, and then pursued her Ph.D. in Astronomy & Astrophysics from Harvard University where she was a NSF Graduate Research Fellow and a National Geographic Young Explorer (check out her interview here). Advised by Dr. Mercedes López-Morales, her thesis focused on using Hubble Space Telescope data to characterize atmospheres of individual planets.
After graduating in 2021, she accepted a postdoctoral fellowship at Carnegie Earth & Planets Laboratory where she continues to focus on exoplanet atmospheres using large ground-based telescopes and with JWST. Looking to the future, she has been focusing more on smaller planets and trying to think holistically about how atmospheres of planets can inform planet formation history. Her recent paper focused on a unique planet, HIP41378f, with very low density. The density of this planet could be explained by circumplanetary rings or high altitude hazes (also called super-puff planets). However, given the precision of the observations, it is difficult to differentiate between the two theories.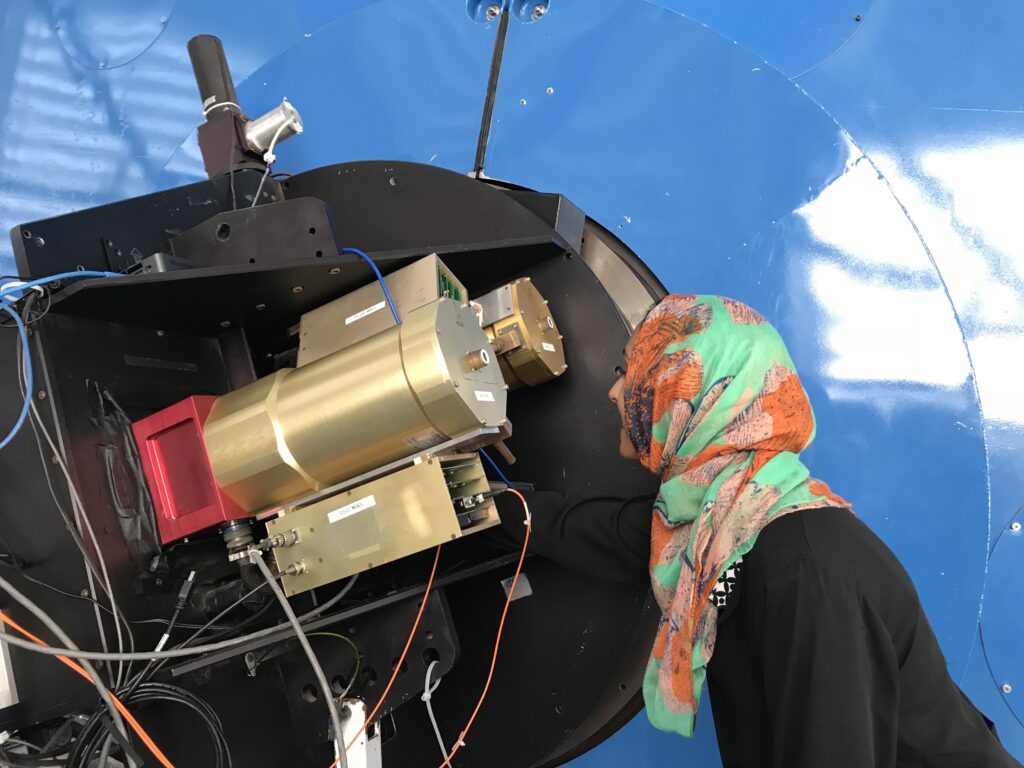 Wearing a Headscarf in Astronomy
As a Muslim woman in a headscarf, Dr. Alam is acutely aware of her identity in astronomy. "I think being a woman in astronomy is one identity, but it's another identity to be a woman of color," she tells me. At conferences, she is happy to see more women, but there is a significant lack of women of color and especially women who wear headscarves. She has been focusing on mentoring students and creating a more welcoming space for students of color, and especially those who have similar identities to hers.
However, her own experience has not been as inclusive or welcoming. "During a visit to another institution for an in-person seminar, I was harassed for wearing a headscarf," she says. The harasser was a white, female, Emeritus professor. Although she's proud of how she handled the situation, she felt cornered and uncomfortable with what transpired. Thankfully, she had support from her thesis advisor, the chair of the department, and the AAS CSMA. "So even though we're having these conversations about being more inclusive and equitable in the field, it's not going to happen overnight and not everyone will practice what they have learned," she adds.
Speak Up
Given her experience, Dr. Alam has advice for bystanders of gendered and racial harassment: "when something happens, speak up! Often, the burden is put on minoritized identities to speak up and to explain why something is wrong or needs to be changed. This is emotionally exhausting." She further reflects that the discrimination can come from anyone, so it's really important for everyone to be aware of and thoughtful about their words and actions. In short: educate yourself to understand nuances and micro-aggressions and with that understanding, speak up!
Educate yourself to understand nuances and micro-aggressions and with that understanding, speak up!

Dr. Munazza Alam
A Network of Support
As an accomplished astronomer, she has learned many things about herself and the field during her time in astronomy. For women, she recommends creating a network of strong female mentors who can offer support in every aspect of your life. "In grad school, I quickly learned that it's good to have multiple mentors since some people are better at giving big picture advice (ie. career trajectory advice) while others are better at giving advice on day to day tasks (ie. time management)," she explains. She further adds that mentors don't always have to be those senior to you, but can also be your peers. "I spent a lot of time in grad school cultivating my support network which I use to this day!"
Put Your Health First
Looking back, a piece of advice she would give herself is to prioritize her physical and mental health, live a balanced lifestyle, and to take breaks. "My thesis advisor always told me that grad school is a marathon, not a sprint." In order to do well, you have to be well – which is not always easy, but is an extremely important ingredient to success.
Lastly, I asked her if she has any advice for current and future astronomers.
"I have two.
Firstly: don't tie your self-worth to your sense of accomplishments. There is some level of luck and small-number statistics that are involved in who gets into grad school, or who gets a fellowship. Be patient with yourself, be kind to yourself, and stay positive.
Secondly: you do you. Pave your own way. You'll get a lot of advice from many different people so it's important to take advice that you need, but ultimately it's up to you on what you want to do with your Ph.D."
Edited by Huei Sears & Catherine Manea
Featured image credit: Dr. Munazza Alam