Pronunciation of Burçin Mutlu-Pakdil: Burchin Moot-loo Pak-dil
This interview has been edited for length & clarity.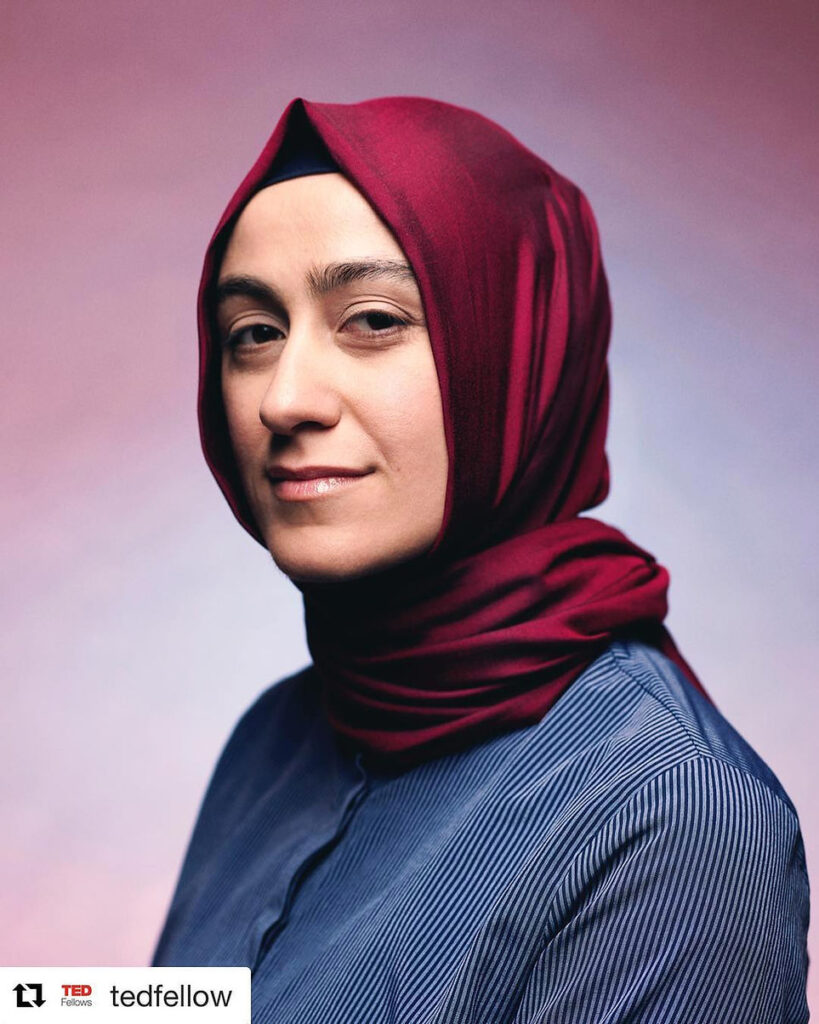 The Cleverest Person in the World
Dr. Burçin Mutlu-Pakdil first became interested in astronomy during a homework assignment in middle school when she was asked to write an essay on her "ideal person." At first, Dr. Mutlu-Pakdil didn't have anyone specific in mind, but knew she wanted to grow up to be "the cleverest person in the world." Her sister suggested researching Albert Einstein, and Dr. Mutlu-Pakdil dove into learning about his life. The more she read about physics, the more she became obsessed with black holes, galaxies, and the Universe. This homework assignment would mark the beginning of Dr. Mutlu-Pakdil's path to becoming an astrophysicist.
She went on to receive her B.S. in Physics from Bilkent University in Turkey. After graduating, she moved to the U.S. to pursue a Master's degree at Texas Tech University. She then received her Ph.D. in Astrophysics from the University of Minnesota-Twin Cities, where she studied the relationship between galaxies and black holes. Throughout her career, she has won many accolades, including being named one of the Ten Outstanding Persons of the World, awarded the TED Fellowship in 2018 and the Senior TED Fellowship in 2020, being named a AAAS IF/THEN Ambassador, and being awarded the KICP (Kavli Institute for Cosmological Physics) Postdoctoral Research Fellowship and an NSF Postdoctoral Fellowship. She has been featured in National Geographic, Marie Claire magazine, the film documentary Breakthrough: Portraits of Women in Science, and her TED talk has accumulated over 2.5 million views.
After three years of postdoctoral research at the University of Arizona, Dr. Mutlu-Pakdil became an NSF and KICP fellow at the University of Chicago, where she continues to research galaxy formation and evolution. She uses data from the Hubble Space Telescope, Magellan Telescope, and the Subaru Telescope to find and observe the faintest and smallest galaxies in the Universe. These galaxies are the oldest, most dark matter dominated, and least chemically rich stellar systems, so they provide clues to the nature of dark matter and galaxy formation on small scales.
Wearing a Headscarf in Astronomy
Born and raised in Turkey, Dr. Mutlu-Pakdil attended college in Turkey which is when she decided to begin wearing a headscarf, or hijab. Unfortunately at the time, Turkey's ban on hijab in universities was still in place (later lifted in 2010). This was a difficult time for Dr. Mutlu-Pakdil as she struggled between following her dreams of becoming a physicist and staying true to her identity. As a first-generation college student, Dr. Mutlu-Pakdil was also facing pressure from her family, who encouraged her to prioritize her education above all else.
Additionally, as one of the only female scientists at her university, Dr. Mutlu-Pakdil constantly faced microaggressions, especially from older faculty. During Dr. Mutlu-Pakdil's first day of college, a senior faculty member approached her and told her, "you are a woman, and you left your hometown to study physics. Are you crazy?" At first, Dr. Mutlu-Pakdil was shocked, and had no idea how to react. She also had no one to talk to or ask for advice, as there were very few female faculty in her department. So after graduating college, Dr. Mutlu-Pakdil decided to move to the U.S. for her Master's, a decision motivated both by her desire to have more freedom to be herself as well as increased educational opportunities. Today, Dr. Mutlu-Pakdil helps mentor younger Turkish girls struggling with similar issues. Hundreds of students in K-12 and college reach out to her with dreams of pursuing astronomy, but struggle with their family's and society's expectations. "You don't need to choose your career over your identity," she often tells them.
Burçin's Galaxy
During her PhD, Dr. Mutlu-Pakdil discovered the galaxy PGC 2000714, which has since been nicknamed "Burçin's Galaxy" (the paper can be found here). Classified as a Hoag's Object, it comprises ~0.1% of all observed galaxies. Hoag's Objects, also known as a ring galaxy, have two components: a nearly perfect outer ring of young stars that surround a centralized nucleus of older stars. Burcin's Galaxy is even more unique because it contains not two but three components: a central core of older stars (similar to an elliptical galaxy) with no evidence of a bar or spiral structure, a smaller diffuse inner ring and a younger outer ring. Through extensive analysis and observations from the Irénée du Pont Telescope (2.5 m), Dr. Mutlu-Pakdil and collaborators suggested that this galaxy likely formed through an accretion event, where one galaxy accumulates mass from another galaxy via gravitational attraction. While the age of the inner ring is undetermined, the age of the core is 5.5 billion years and of the outer ring is 0.13 billion years. The discovery of Dr. Mutlu-Pakdil's Galaxy has gained extended media attention including articles in CNN, Astronomy.com, and The Independent.
Despite Dr. Mutlu-Pakdil's extremely careful and methodical analysis, she still encountered criticism from her male colleagues who questioned her discovery and analysis techniques. In contrast, she noticed that when her male colleagues reported new discoveries, they would only receive praise. Dr. Mutlu-Pakdil still sees this happen to other incredible women scientists today in regards to their research.
Dr. Mutlu-Pakdil hopes that astronomy becomes more supportive as the community becomes more familiar and educated about the experiences of astronomers with marginalized identities. Through self-education, she hopes that astronomers learn to recognize and eliminate microaggressions. "For example, if you see someone asking questions in a condescending way, you should speak up and ask questions that are more celebratory and constructive," she advises.
Knowing Your Value
Dr. Mutlu-Pakdil says her number one advice for aspiring astronomers is to know your value, and push yourself to try new things. "When you don't [see yourself represented] and when your choices are constantly being questioned by society, you start to question your own value. And then because you don't recognize your own value, you don't apply for or ask for things that might be suitable for you. Right now, the thing that I am constantly reminding myself of is that I should try everything. Even if something is beyond me, nothing will happen unless I try".
Your Support System
Dr. Mutlu-Pakdil's advice for graduate students is to surround themselves with inspiring, supportive, and like-minded people. "It's really important to not be alone, because self-doubt can start to creep in," she says. Dr. Mutlu-Pakdil remembers when she first began as a scientist, she didn't have a large group of female friends or allies. Today, she surrounds herself with other female scientists and mentors, and she feels so much more supported and empowered.
Featured image credit: TED Fellows 2018
Astrobite written by: Abigail Lee and Maryum Sayeed
Edited by: Sahil Hegde