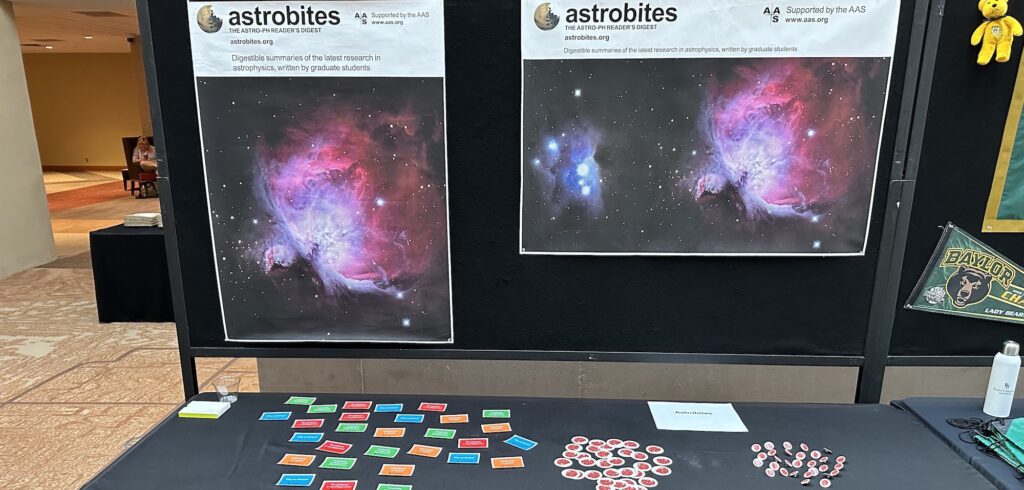 This week, AAS Nova and Astrobites are attending the American Astronomical Society (AAS) summer meeting in Albuquerque, NM, and online.
AAS Nova Editors Kerry Hensley and Susanna Kohler and AAS Media Fellow Ben Cassese will join Astrobites Media Intern Sumeet Kulkarni and Astrobiters Lucas Brown, Emma Clarke, Wei Vivyan Yan, and Junellie Gonzalez Quiles to live-blog the meeting for all those who aren't attending or can't make all the sessions they'd like. We plan to cover all of the plenaries and press conferences, so follow along here on astrobites.org or on aasnova.org! You can also follow @astrobites on Twitter for the latest updates.
Where can you find us during the meeting? We'll be at the Astrobites booth in the Exhibit Hall all week — stop by and say hello! In addition, you can catch Kerry, Ben, and Sumeet at the press conferences all week, and Sumeet will be presenting an iPoster on Astrobites as an educational resource at 5:30–6:30 pm MT on Tuesday, 6 June.
You can read the currently published AAS 242 keynote speaker interviews here. Be sure to check back all week as the remainder are released!