In this series of posts, we sit down with a few of the keynote speakers of the 242nd AAS meeting to learn more about them and their research. You can see a full schedule of their talks here, and read our other interviews here!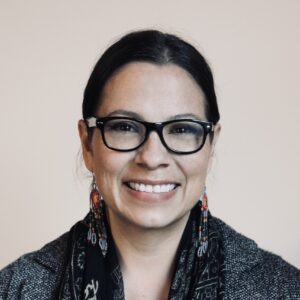 "We can put this big puzzle together, learning more about how galaxies grow and evolve", says Dr. Julia Blue Bird, who studies how galaxies evolve over cosmic time.
Dr. Julia Blue Bird is currently a Jansky Fellow at the National Radio Astronomy Observatory (NRAO) in Socorro, New Mexico, and is one of the plenary speakers at #AAS242. Her plenary lecture is titled "Evolution of Neutral Hydrogen in Galaxies Over One-Third the Age of the Universe with CHILES".
Blue Bird started as an engineer where she worked at NASA building the communications system for the Orion spacecraft. "… as an engineer, you build things and you put them out there. But I also wanted to just study out there", says Blue Bird, who mentioned how she thought that being an engineer and a scientist would be similar, but was surprised to find they were very different jobs. "Being an engineer, I was focusing on man-made things, and being a scientist I'm almost focusing more on nature", explained Blue Bird when she reflected on her journey into the astronomy field. With three master's degrees and her PhD in astrophysics, she brings her engineering lens into her work as an astrophysicist.
Blue Bird is also involved with building holistic pathways for Indigenous people to share and celebrate Indigenous knowledge. She is currently working on creating a program to connect the National Radio Astronomy Observatory (NRAO) with the surrounding Indigenous communities. "We know that everything is connected and it's really the fundamental properties of physics. And so it's like embedded in everything we do. And we're kind of natural scientists to begin with", says Blue Bird when reflecting on her Indigenous knowledge of the world. She is interested in bringing that knowledge and Western science as an "equal thing" in the program where they're "both equally as powerful" says Blue Bird.
Dr. Julia Blue Bird reminds us to "try to enjoy what you're doing" and to "try to stop more and really just look up and remember, you know, why you're doing what you're doing". She motivates us to remember the joy we find in looking up and bring that spark into our work.
In her plenary talk, Dr. Blue Bird will discuss her work with the CHILES project using the Karl G. Jansky Very Large Array (VLA). "Galaxies are made of stars and gas … and because of that we can study how the gas interacts with the environment and how we relate to the star formation histories", says Blue Bird. She will give us an insight on how galaxies evolve over cosmic time.
To learn more about Blue Bird's work, check out her talk on June 6th at 11:40 am at #AAS242!
Astrobite Edited by: Yoni Brande
Featured Image Credit: The American Astronomical Society