Paper Title: Strong water isotopic anomalies in the martian atmosphere: Probing current and ancient reservoirs
Authors: G.L. Villanueva, M.J. Mumma, R.E. Novak, H.U., Käufl, P. Hartogh, T.Encrenaz, A. Tokunaga, A. Khayat, M.D. Smith
First Author's Institution: NASA Goddard Space Flight Center
Paper status: accepted by Science
I must first say that although it took a lot of self-control, I refrained from posting any sort of fallacy in today's (April Fool's) post. So the reader can rest assured that the results presented today are 100% accurate.
There have been more missions to Mars than to any other planet in the Solar System yet there is still so much to be learned about our closest neighbor. The presence of valley networks suggest that there was once liquid water running rampant on its surface but we know that present day Mars is much too cold to sustain liquid water. So what was going on 4.5 billion years ago? Unfortunately, I have no answers for you in this regard, as it remains a 30-year-old debate.
On one side, there are the scientists who will fight to the death defending the theory that Mars was actually cold but temporarily heated by impacts from asteroids during the Late Heavy Bombardment (a period of time when asteroid activity was quite large). In the opposing corner are the scientists who hypothesize that early-Mars had massive quantities of greenhouse gases, which made it possible to have prolonged existence of liquid water. I personally, agree with the latter argument. The idea that Mars had a stable warm climate makes the search for life (or fossils) very compelling. And, given the results from today's paper, it looks like I'll be able to continue with my high hopes. Six years worth of observations prove that Mars had a steady ocean, which covered 19% of the planet's surface (the Atlantic covers 17%).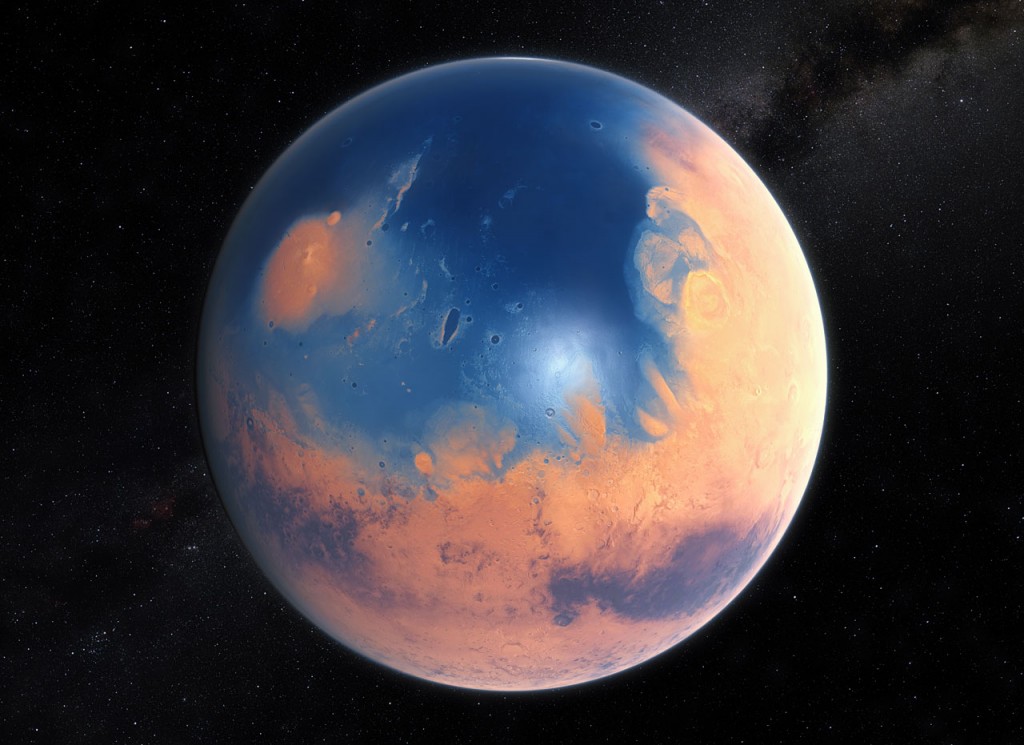 Looking for something when it clearly doesn't exist = Insanity?
How do you look for the presence of water if the water isn't there anymore? Well, if we can't search for the water directly, we can do the second best thing and try to figure out how it left and where it went. In the case of Mars, there is really only one place the water could've gone: up and out! As the water escapes to space, it leaves behind a chemical signature in the atmosphere that can be measured remotely, here on Earth. In this case, astronomers used instruments at the ESO's Very Large Telescope in Chile and instruments at the W.M. Keck Observatory to do global spectroscopy of the entire planet. Pretty cool but what chemical signature are they physically measuring?
The oceans on Earth are made up of two different kinds of water: H2O and HDO. HDO is a slightly heavier form of water because, instead of having two hydrogen atoms, it has one hydrogen atom and one deuterium atom (a hydrogen with a neutron). When the ocean starts evaporating, gravity tells us that more H2O will escape as compared to HDO based on a weight argument alone. As Mars begins to evolve, evaporation progresses, more HDO will be left behind in the atmosphere as opposed to H2O. Lucky for us, H2O and HDO have completely different spectral signatures and so we can measure the ratio of hydrogen to deuterium (D/H ratio). By looking at the global spectroscopy of the planet, we can predict how much water was lost and calculate how much surface water there was billions of years ago (check out this bite for more on this process).
Patience is Key
The Mars Science Laboratory (Curiosity) has also done D/H measurements. The key difference between those measurements is that they are representative of one specific location. Although that is valuable, Villanueva et. al. blew those measurements out of the water. Over six years, they mapped the global D/H ratio. This allowed them to look at differences between the Polar Regions and the equatorial regions, as well as to get a sense for any existing seasonal changes.  Intuitively, one would expect differences in D/H ratio throughout Mars, especially considering Mars has prominent north and south polar caps. Just as suspected there were large seasonal and latitudinal variations. Some regions had D/H ratios about 1-3 times the value of Earth's ocean while others, including the water ice in the polar reservoirs were enriched by at least a factor of 8 times what we see here on Earth.  In order to get this level of enrichment, Mars must have lost at least 6.7 times what is currently being stored in the polar caps.
The discovery of the missing ocean
All the maps described above tell us that early Mars had an ocean of at least 20 million cubic kilometers. This is about 6.7 times the amount of water frozen in the Martian northern cap but it is also only about 1% of the amount of liquid water on Earth. Not a lot, you might think. Well, the last point I will emphasize is that the quantity of water estimated by the authors is only a lower estimate. It is entirely possible that Mars once had much more water. Why? Because our estimate hinges on the assumption that all the water left on Mars is tied up in the polar caps. Other Mars scientists believe that there might be a significant source of water tied up below the surface. Whether or not that is true remains a mystery.
Either way, I am glad the scientists in favor of warm early mars can take this victory home. I only hope that one day, soon, we will uncover what the atmosphere of early Mars was doing in order to make this ocean possible.