Find the Coolest Stars at Cool Stars
A biennial highlight for astronomers who study low-mass stars, solar physics, and exoplanets is Cool Stars. This conference originated in Cambridge, Massachusetts in 1980, and since then 22 meetings have been held in alternating locations between North America and Europe. Cool Stars 21 was set to take place in Toulouse, France in summer 2020, but COVID-19 had other plans. Instead, last week over 1000 astronomers took to Zoom to participate in Cool Stars 20.5: Virtually Cool.
This was the third virtual conference I attended during the pandemic, and I was expecting a similar experience to the first two: attending the meeting in my pajamas, trying to work on my own research while listening to talks, and having little to no interaction with my fellow conference-goers. However, Cool Stars 20.5 came equipped with a virtual meeting space called Gather.
Cool Stars Gets an Upgrade with Gather
Gather is "a video-calling space that lets multiple people hold separate conversations in parallel." In it, conference-goers can create their own avatar that allows them to walk around the virtual meeting space, interacting with other nearby participants through both audio and video connections. You can see my avatar exploring the "rooftop" portion of the space below.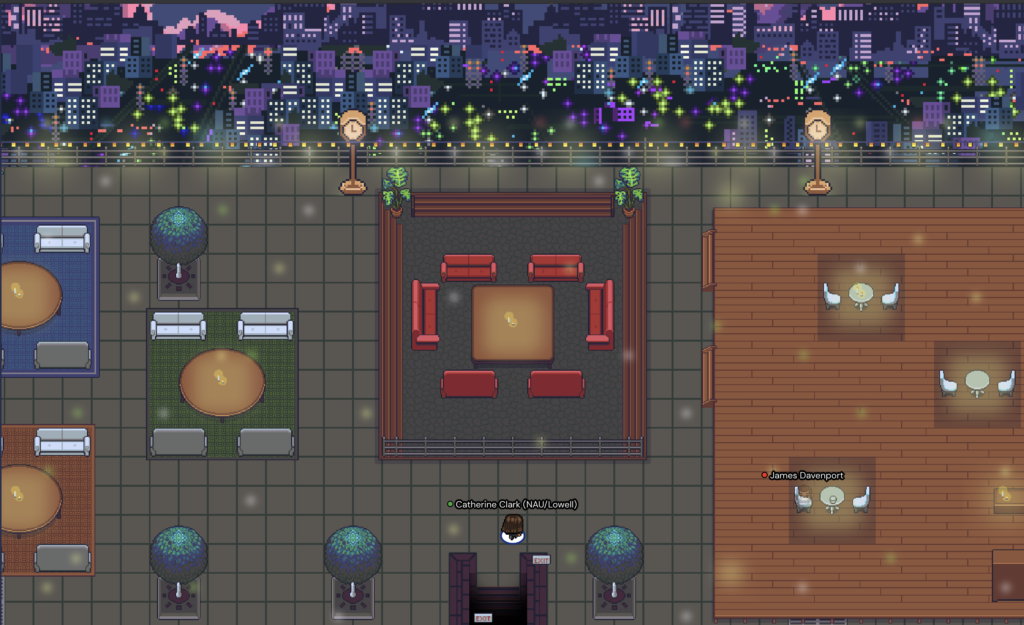 The meeting space was built by Dr. James Davenport, a Research Assistant Professor in the University of Washington's Department of Astronomy. When I asked him why he decided to use Gather for Cool Stars, Dr. Davenport told me, "I made this Town for Cool Stars 20.5 because I wanted to have the socialization and poster experience we didn't have at previous big virtual meetings. We had about 150 posters submitted to the Town."
Posters, Posters, Everywhere!
The poster session was one of my favorite aspects of Cool Stars 20.5. Gather included 6 poster halls, each of which hosted 25 posters submitted by participants. Though conference-goers could explore the posters on their own throughout the conference, Cool Stars 20.5 included a dedicated hour for attendees to stand by their posters or to explore the work of other astronomers in attendance. One of the virtual poster halls can be seen below.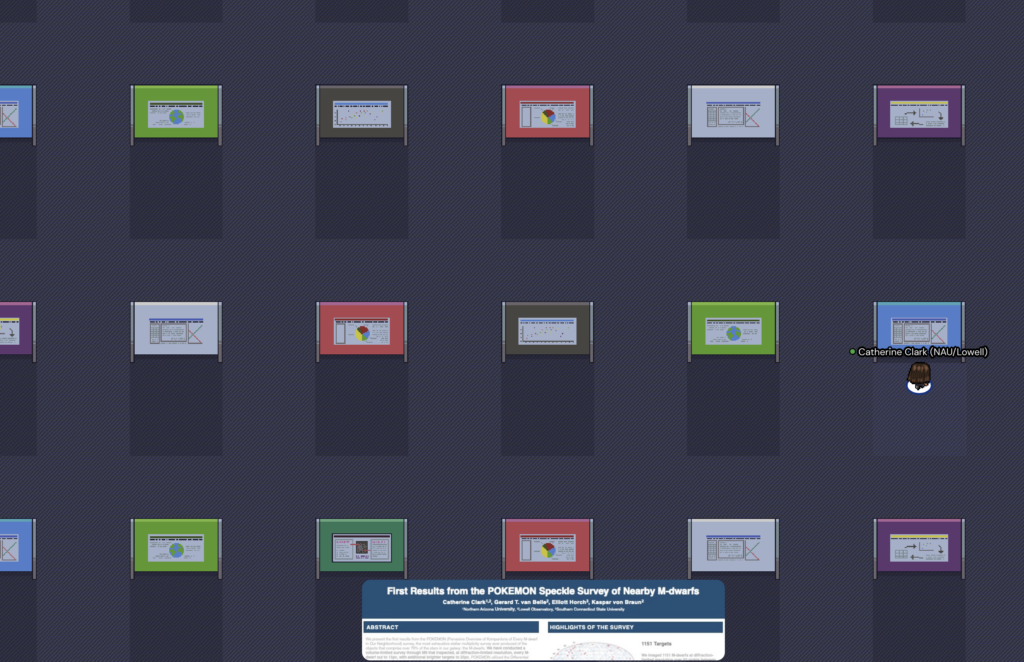 As attendees participated from around the world, the schedule was built to accommodate all time zones, from here in Flagstaff, to participants in Europe, and even those in Australia. During the poster session, I was able to chat face-to-face with a number of other astronomers from various institutions. In previous virtual conferences, I'd only presented to faceless Zoom participants.
The meeting also included Zoom rooms and a Slack channel to complete the well-rounded experience for participants. Dr. Davenport remarked on the use of multiple tools in addition to Gather for Cool Stars 20.5. "[Gather] works especially well in conjunction with other tools, like Zoom and Slack. Gather is more intuitive, easier to run and support, and more fun than other virtual poster platforms being used, especially iPosters."
Looking Ahead
Cool Stars 20.5 certainly felt much more fun in comparison to the other virtual conferences I've attended during the pandemic, both socially and navigationally. Dr. Davenport and I agree that Gather should be used for other conferences being held virtually. He says, "Though it took many hours of work, it was possible for just one attentive person to run the Town, and I would strongly encourage other virtual meetings to adopt Gather Town for their poster sessions and social breaks."
Even though I was not in Toulouse for the meeting, Cool Stars 20.5 exceeded my expectations for what a virtual conference can be. And I will definitely be attending Cool Stars 21 in person in the summer of 2022.
Astrobite edited by Suchitra Narayanan