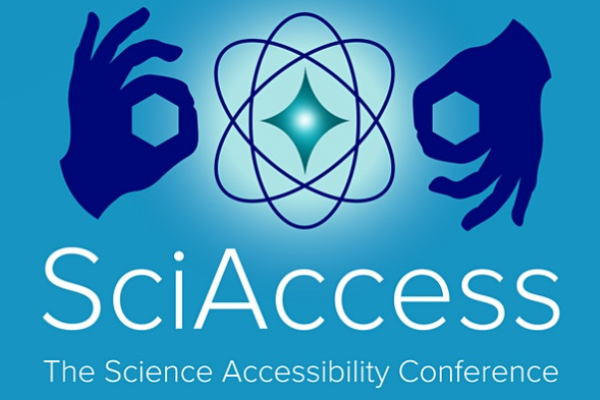 When talking about equity in astronomy, it's important to consider accessibility, how feasible it is for people of diverse backgrounds and abilities to access spaces and resources. Although disability is often relegated to the footnotes of DEI, such as in the Astro2020 Decadal report, our efforts to improve astronomy must include scientists with disabilities, otherwise these efforts are not truly inclusive. As said in a recent white paper about astronomers with disabilities, "accessibility is a human right: lack of accessibility constitutes discrimination in and of itself."
One major initiative to improve accessibility in STEM fields like astronomy is SciAccess, a group with the goal of "promoting equity and inclusion in STEM worldwide." Each fall, they host a conference on accessibility in science, leading by example to show what a truly inclusive meeting looks like. In this Bite, we report from the recent SciAccess Conference 2021, sharing some of the highlights and important takeaways about how you, too, can improve accessibility in your classroom, outreach events, and beyond.
The conference featured sessions from both non-disabled and disabled scientists, educators, science communicators, and more, all focused on what we all can do to make STEM more accessible to people with disabilities.
One of these sessions, by the DisabledInSTEM (DIS) group, gave advice on accessible social media practices for science communication. If you're sharing science on Twitter, Instagram, or really anywhere on the internet, here's a list of tips:
Always add alt text and image descriptions to your photos — this is necessary for visually-impaired people using screen readers. (On Twitter, there's a helpful bot that Tweets alt texts when tagged, @ImageAltText.)
Use CamelCase hashtags (e.g. #DisabilityJustice vs. #disabilityjustice)
Caption your videos — there is another helpful Twitter bot for this, @HeadlinerClip!
Think about contrast and legibility of fonts in your posts/graphics
Link to transcripts for longer videos
DIS emphasized that anyone can be an ally for the disabled community by ensuring their science communication is accessible and promoting disabled and other marginalized voices, and encouraging others to do the same.
Other sessions provided tools to design an accessible class for students with disabilities. Dr. Sheryl Burgstahler, director of UW's DO-IT accessibility initiative, emphasized the importance of Universal Design—everyone, even without special accommodations, should be able to participate and feel welcome in our classrooms. This is especially important because most disabilities are not obvious, and fewer than ⅓ of students report their disabilities to campus accessibility offices. Universal Design calls for multiple ways for participants to engage, learn, and demonstrate learning, while ensuring that all technology, facilities, services, and resources are accessible. Flexibility is key, and instructors should consider students who may enroll and any assistive technology they may use. For example, she described a deaf student who needs captions, a wheelchair user who needs a different height table, and a visually-impaired student who needs class materials formatted for use with his screen reader. In addition to echoing many of the tips from DIS, she added:
Make sure your classroom space is physically navigable for those with physical disabilities.
Make the underlying text of your slides or readings available (and ensure it is formatted correctly) for those using screen readers / text-to-speech.
Use large sans serif fonts in your course materials, with uncluttered pages, plain backgrounds, and consistent layouts.
If using hyperlinks, make sure there is a description instead of just "click here" (again, for those using text-to-speech.)
Make your instructions and expectations clear to all.
Many of these best practices also transfer over to outreach events, which Noreen Grice of You Can Do Astronomy gave a presentation about. She described how event organizers need to think through multiple situations, and how to make them visually accessible, hearing accessible, mobility accessible, sensory friendly, and safe for service/access animals. Star parties are an example of outreach that comes up often in astronomy, and they're notoriously inaccessible—hosted on uneven grassy slopes, with telescopes at a fixed height that sometimes require ladders. Grice offered advice for each category of accessibility she mentioned:
Mobility: Ensure accessible entrances and paths, varied table heights, viewing options besides ladders.
Visual: Offer tactile and large print materials, enlarge visual images on screens, try out sonification.
Hearing: Offer ASL interpretation, use Google Live Transcribe or CART captioning.
Sensory friendly: Provide quiet spaces, offer early access to the event before crowds, anticipate service animals.
She also emphasized the importance of having volunteers staff tables and other exhibits, since having a live person available is often one of the best assets for making things accessible.
Other sessions covered accessibility for in-person conferences, including a special workshop for AAS members about making our presentations accessible for the upcoming Winter Meeting in January—this session will be covered in-depth in a separate Bite, coming soon!
In addition to practical tips on making events accessible, SciAccess 2021 highlighted exciting new assistive and accessible technologies. Imagine how many times your professors have gone over an equation and said "So we multiply this by that, and we get this as our final answer." That lesson would be unintelligible if you didn't have access to information on the board. Lisa Voigt, a Braille and Typewell transcriber at The Ohio State University, described a way to transcribe speech-to-Braille in real time to solve this problem. That way, any student who was visually or hearing impaired would have the same access to information given in class as their sighted peers. AstroAccess ambassador Zuby Onwuta also showcased his invention Think and Zoom, which uses an EEG headset and Google Glass to allow users to zoom in on screens only using their thoughts.
Speakers Allyson Bieryla and Sóley Hyman from Harvard University created another assistive technology, this time spurred by the Great American Solar Eclipse of 2017. Working with blind astronomer Wanda Díaz-Merced, they developed LightSound—a device that converts ambient light intensity into sound. A tone is emitted when the device is exposed to light, and gets lower in pitch as the brightness decreases, letting users audibly experience visual events such as the dimming of the sun during a solar eclipse. This low-cost, open source device is made using an Arduino, making it fairly simple to build by volunteers and anyone interested. In the future, Bieryla and Hyman hope to debut another similar device called the Orchestar. This device will have a color sensor, so it can detect changes in wavelength of light and make it possible for visually-impaired audiences to experience colors on posters and images.
The program was rounded out by a set of diverse keynotes from people involved in making science—especially spaceflight—accessible to all, including Blue Origin Astronaut Chris Boshuizen, Virgin Galactic Astronaut Sirisha Bandla, NASA Mission Director Apurva Varia, and adaptive technology designer Joshua Miele. The speakers shared their passion for and experiences with accessibility in STEM, such as Bandla's ineligibility for NASA spaceflight due to her poor vision. Similarly, Varia's dream of being an astronaut was delayed by a letter from NASA as a kid telling him they weren't accepting deaf astronauts. Now, he's on the team for Mission: AstroAccess, a SciAccess initiative to test and create accessible technology for spaceflight. They recently had their first Zero G flight, which will also be covered in an upcoming Bite.
The SciAccess conference was a portrait of an inclusive, vibrant STEM community, where all could participate without requiring accommodations. Many times the organizers emphasized how it's important to make events accessible without requiring self-advocacy, since many people don't even know to ask and therefore simply don't attend. By creating accessible spaces like this one to engage with science, they are paving the way for a better future in STEM with diverse participants of all abilities. SciAccess also has other projects to improve accessibility as well, such as their Zenith Mentoring Program for high school students and a working group on accessible STEM. (If you're a AAS member, we also have a working group on disability and accessibility that you can join!)
Coordinator and SciAccess founder Anna Voelker, as well as many of the panelists, repeated one major takeaway: accessibility is a learned skill that takes time and practice. You need to be willing to learn, improve, and be committed to access in your work, and that truly is the first step in making science more accessible for everyone.
Conference coverage by Briley Lewis and Katya Gozman — check back soon for links to upcoming Bites on SciAccess's AAS Presentations Workshop and Mission: AstroAccess!
Edited by Katya Gozman
Featured image from SciAccess